---
SHARON'S BLOG
Has something traumatic ever happened to you or your family?
When Anne Bradstreet's house burned down, she was heartbroken and wrote a poem about it. Read her poem below in which she pours out her grief, her pain upon losing everything, and what she learned from this terrible situation.
What is unusual about this poem is that Anne's house burned in 1666, at a time when many people did not value poetry and did not take the time or have the time to write it. Also, it is very unusual that a woman of that time would have been recognized as a poet and have her poems published.
Anne was the wife of Simon Bradstreet, a governor of the Massachusetts Bay Colony. Her work became so famous that her poems were printed in London as well. High praise, indeed, for a Puritan woman of that era.
Here's her poem titled "Verses upon the Burning of Our House, July 18th, 1666." You'll notice that some of the capitalization and spelling is different from ours today: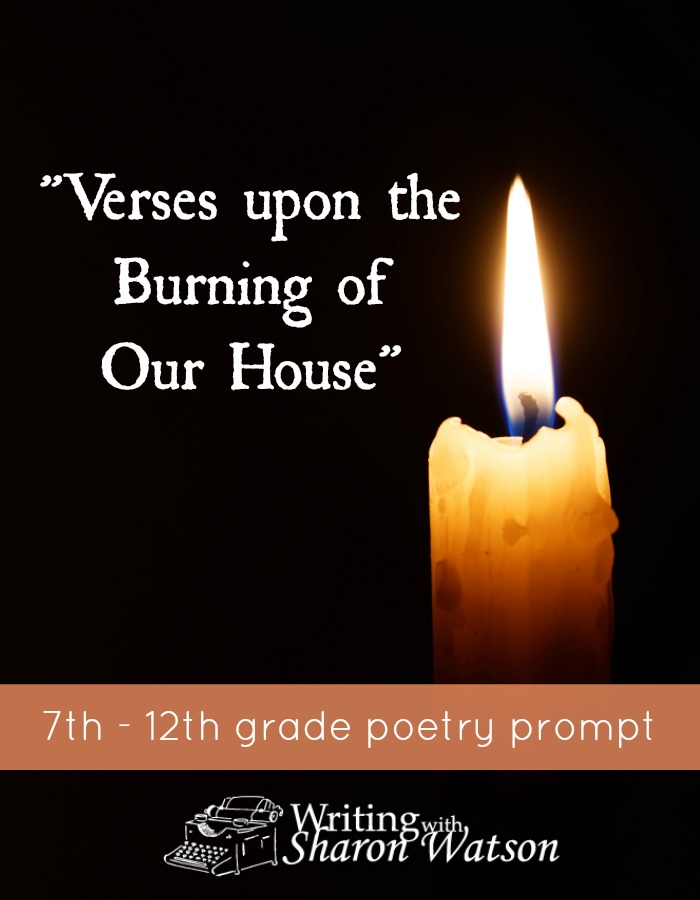 ---
Verses upon the Burning of Our House
In silent night when rest I took,
For sorrow near I did not look,
I waken'd was with thund'ring noise
And piteous shrieks of dreadful voice.
That fearful sound of 'fire' and 'fire,'
Let no man know is my Desire.
I starting up, the light did spy,
And to my God my heart did cry
To straighten me in my Distress
And not to leave me succourless.
Then coming out, behold a space
The flame consume my dwelling place.
And when I could no longer look,
I blest his grace that gave and took,
That laid my goods now in the dust.
Yea, so it was, and so 'twas just.
It was his own; it was not mine.
Far be it that I should repine,
He might of all justly bereft
But yet sufficient for us left.
When by the Ruins oft I past
My sorrowing eyes aside did cast
And here and there the places spy
Where oft I sate and long did lie.
Here stood that Trunk, and there that chest,
There lay that store I counted best,
My pleasant things in ashes lie
And them behold no more shall I.
Under the roof no guest shall sit,
Nor at thy Table eat a bit.
No pleasant talk shall 'ere be told
Nor things recounted done of old.
No Candle 'ere shall shine in Thee,
Nor bridegroom's voice ere heard shall bee.
In silence ever shalt thou lie.
Adieu, Adieu, All's Vanity.
Then straight I 'gin my heart to chide:
And did thy wealth on earth abide,
Didst fix thy hope on mouldring dust,
The arm of flesh didst make thy trust?
Raise up thy thoughts above the sky
That dunghill mists away may fly.
Thou hast a house on high erect
Fram'd by that mighty Architect,
With glory richly furnished
Stands permanent, though this be fled.
It's purchased and paid for too
By him who hath enough to do.
A price so vast as is unknown,
Yet by his gift is made thine own.
There's wealth enough; I need no more.
Farewell, my pelf; farewell, my store.
The world no longer let me love;
My hope and Treasure lies above.
In this moving poem, Anne describes sounds, sights, her reactions to the fire, her pleasant memories of eating in her house, her sadness of the loss, and an eternal insight that she gained from it.
Now it's your turn: Writing poetry can help us cope with traumatic events as well. Write your own poem about something big that happened to you. Incorporate senses like sound, sight, and touch, and be sure to include how you reacted to the event and perhaps an insight you gained from it.
*****
Looking for More Poetry Prompts?
Students learn how to write 3 kinds of poems here. >>
And beautiful haiku poetry here. >>
Would they prefer to write a diamante? >>
Do you want your teens to learn about sonnets? >>
Experience Edgar Allan Poe's moving poem "The Bells." >>
Explore our fun writing prompts for your middle school students here. >>
Your teens will enjoy these engaging prompts. >>
Grab your fantastic samples and lessons available from Writing with Sharon Watson for FREE. >>
Copyright © 2017 by Sharon Watson