---
Would you like to give your students some practice in writing poetry? With these guided prompts, your students do not have to "sit down and write a poem" but will surprise you by creating something fun and maybe even memorable. Here goes . . .
1. List Poem
Poems can be written about anything. Shel Silverstein is famous for this and for the variety of his poems.
For instance, "Hector the Collector" is basically a list of things the boy has collected, like "Bent-up nails and ice-cream sticks / Twists of wires, worn-out tires / Paper bags and broken bricks." He calls them treasures, but others, alas, call them junk.
You can read the whole poem here. (It's just the poem; there's nothing else on that page.)
Then there's his poem "Sick," in which a young girl, thinking it's a school day, complains,
My leg is cut, my eyes are blue.
It might be instamatic flu.
I cough and sneeze and gasp and choke
I'm sure that my left leg is broke.
When she remembers it's Saturday, her list of funny symptoms disappears.
Write your own list poem that tells a story.
2. An Answer to Nancy Hanks
Abraham Lincoln's mother Nancy Hanks died when Abe was a child. She never knew the type of man he would turn out to be. There was nothing in his life at that point that would indicate his presidential greatness.
What if we could hear her thinking about her son and his future? Rosemary Benét and Stephen Vincent Benét did just that in a poem titled "Nancy Hanks." In this poem, Abe's mother worries about him being poor and all alone after her death, and she wonders how her son will turn out. Here is the first stanza:
 If Nancy Hanks
Came back as a ghost,
Seeking news
Of what she loved most,
She'd ask first,
"Where's my son?
What's happened to Abe?
What's he done?"
You can read the rest of the poem here.
Write a poem as a reply to Nancy Hanks' worries. Tell her in poetry how her son turned out.
3. Haiku
Haiku is a beautiful form of poetry perfected by the Japanese. Each haiku has a certain structure. The first line has five syllables, the second line has seven syllables, and the last line has five again.
Haiku poems are generally about something in nature, but you can create a haiku on any topic. Here's one by Barbara Daningburg about, well, I'll let you figure it out:
My yellow blooms move.
Winds swaying dandelions?
No! Finches took flight!
What a fun word picture of looking at what you think are flowers, but then the flowers fly away! This same scene actually happened to me at a park. I thought I was looking at little yellow flowers until they fluttered off. They were butterflies!
Here's another by the same writer:
Oak's dry winter leaves
Clatter like the sound of rain
Or bacon frying.
Here the poet has not captured a sight but sounds.
Now you try it. Write a three-line haiku and follow the structure of 5-7-5 syllables. Your haiku can be on any topic, though you'll want to use the poem to capture just one thought.
*****
Would you like other poetry prompts? Here's one on haiku.
Here's another on the diamante poem.
Students will get a kick out of Edgar Allan Poe's "The Bells" here.
James Whitcomb Riley's "When the Frost Is on the Punkin" teaches many types of figurative language.
Sports and poetry combine in this prompt!
Got any cowboys or cowgirls at home? They'll like this prompt.
And let's not forget the sonnet. You can find instructions for one here.
Want more prompts? Enjoy our Middle School Prompts and our High School Prompts.
*****
Copyright © 2016 by Sharon Watson
Original image credit: coscurro / rgbstock.com
Image: Sharon Watson
A version of this prompt was first posted on SchoolhouseTeachers.com. You can go directly to SchoolhouseTeachers.com to sign up and take advantage of all Sharon Watson's daily prompts and many exciting courses written by other experts in their fields, or click here to see Sharon's courses you can enjoy on SchoolhouseTeachers.com.
This post contains affiliate links.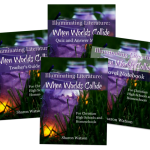 Download your FREE chapters from our new literature course Illuminating Literature: When Worlds Collide.
Do you have an idea for a writing prompt? Contact Sharon Watson by clicking here.
Teachers, connect with Sharon on Facebook or Pinterest!
---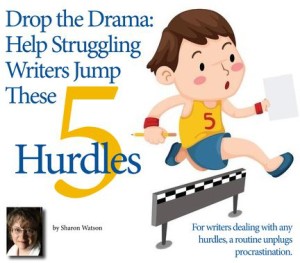 Are your writers struggling? Do you wish you could figure out why your children won't write? Would you love to have a peaceful writing class experience?
Help your struggling writers—and you!—by identifying five hurdles to writing. Then learn practical actions you can take against those hurdles.
This article by me in The Old Schoolhouse magazine is also loaded with links to other helpful posts that will give you and your writers some welcome relief.
Click here to drain some of the tension from your writing class
---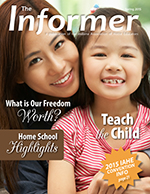 Frustrated that your students don't finish an essay or don't know the steps to complete one? Worry no more! Click here for my latest article in The Informer about a super-practical writing schedule you WILL use!
---
Want daily writing prompts to tempt reluctant writers and delight eager ones? Find out more about Sharon's daily writing prompts posted on SchoolhouseTeachers.com under "Dailies" or click here.
---
Get three FREE writing lessons by subscribing to Writing with Sharon Watson! Use the Subscribe form in the column to the right.
---
---
Get your middle school student ready for high school with this popular writing curriculum from Writing with Sharon Watson, published by Apologia! Featured in Cathy Duffy's 102 Top Picks for Homeschool Curriculum, Jump In will prepare and even amuse your students as they learn the fundamentals of effective essay writing and storytelling.