Their Blood Tingled:
Junior High Literature and Story Writing with C. S. Lewis's The Magician's Nephew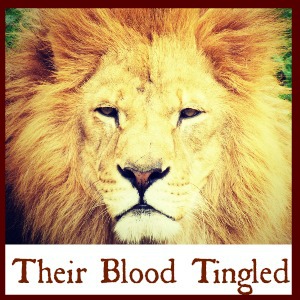 Are you aware of the battle for your child's or teen's soul every time they read a book or watch a movie?
Authors know how to engineer their stories to have the most influence on their readers' minds and hearts. Are your children equipped to combat that?
When Polly and Digory stand next to Aslan in the circle of newly created talking beasts in The Magician's Nephew, C. S. Lewis reports of the children that "their blood tingled."
I was so thrilled at this description that I named our new junior high literature course after it.
Introduce your junior high students to the captivating world of literature with the eBook Their Blood Tingled. They will learn literary terms and story-writing techniques and discover the secret power of the author to grab their hearts.
Their Blood Tingled contains 26 literature and story-writing lessons. Your students will learn point of view, theme, symbol and motif, characterization, the hero's journey, and much, much more.
A quiz and discussion questions are included, along with the answers to these and the lessons.
Lessons: 26
Semesters: 1
Credits: 1/2
Grades: Junior High
Prerequisites: None
Format: Digital
Answers included: Yes
Christian content: Yes
Explore the creation of Narnia, how the White Witch gains entrance into that pristine land, and what ordeal Digory undergoes as he tries to save his mother in The Magician's Nephew (sold separately).
Prepare your students for high school literature and equip them for the rest of their reading lives with Their Blood Tingled.
Download a FREE sample lesson here.
Click here to purchase Their Blood Tingled. >>
.
(This page contains affiliate links.)