Jump In
"My favorite parts of the manual are the 10 minute writing plunges. If you have a reluctant writer the writing plunges are a gentle and easy way to introduce your student to writing using a writing prompt. Writing for such a short amount of time helps your student not to feel overwhelmed at the prospect of writing." Read more from My Blessings from Above
***
"Overall, Jump In looks like it will be a huge blessing in our house. We all love the layout and I think it's going to fit really well into our plans for the 2014-2015 school year."  Read more from Redeemed
***
"I absolutely LOVE the layout of the student workbook. It gives Olivia the structure she needs, while at the same time giving her flexibility and input into her writing assignments." Read more from Learning Curve
***
"We are VERY satisfied and excited about Jump In curriculum! We are taking a break, but this will be our Writing Curriculum for the fall and going forward!! I must say I also learned a few things myself about writing through this program!" Read more from Happily Managing a Household of Boys
***
"I hate writing, but I really liked this book." -Shelby, student
The Power in Your Hands: Writing Nonfiction in High School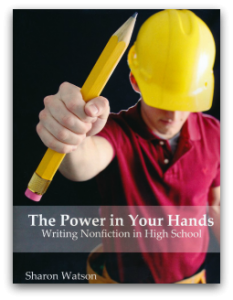 "This is a very intense curriculum if you look at it as a whole, yet broken down lesson by lesson – it is very simple to digest." Read more from Petra School
***
"Holy smokes, I about cried when I looked through this book. It is exactly what I have been looking for in a writing class. . . " Read more from Our Crazy Adventures in Autismland
***
"Right off the bat my son liked the conversational style of author Sharon Watson. I swear I heard a chuckle or two coming from his direction! This course eases into writing with the basics which allow even beginning writers to catch up." Read more from Tales of a Homeschool Family

***
"I am thrilled with this writing curriculum. Sharon Watson obviously put a lot of time and effort into putting this together. She had the student in mind when creating this and did a fabulous job. Jacob loves to write fiction, not non-fiction; so when he says he likes it, that is a real compliment." Read more from Living Life As It Unfolds
***
"The teacher's Grade Toolbox! I absolutely loved this feature. The author takes you through the various components to grading writing assignments. "How to Earn an…" gives a sample paper with notes for each grade. The grading rubrics for the various assignments take the guesswork out of giving grades! " Read more from Eclectic Momma
***
"Receiving The Power in Your Hands: Writing Non-Fiction in High School by Sharon Watson has been an enormous blessing to me. My twin boys with Asperger Syndrome sometimes struggle with reports and essays. Writing requires planning, organization, and proper use of language. . . . This curriculum incorporates these steps into the lessons, gives checklists for projects, and even finds a way to make it fun." Read more from Our Village Is a Little Different
***
"I already loved writing, but this book really helped me understand different techniques and potential." – Julia W., student
Writing Fiction [In High School]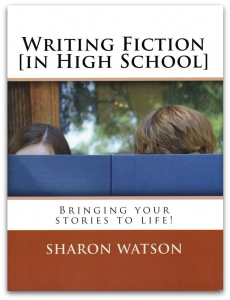 "I really do like this program! A lot! It is very thorough, but not difficult to follow. The lessons are broken into manageable sizes and are filled with all kinds of practical assignments." Read more from Faith, Family and Fridays
***
"We honestly really loved this curriculum and can't think of a thing we didn't like. This is something I hope to use with my other children when they become high school students. I like the creativity aspect of the writing process." Read more from Angels of Heart
***
"First of all, the author has done something great here. This is the best writing curriculum for high schoolers that I have seen in a long time–that is practical yet challenging. " Read more from A Simple Life, Really?
***
"I love how easy this curriculum is laid out. Not only does it have easy lessons, but it also offers ways to gain ideas from things like movies, plays, and more . . . I love that it is also independent enough that she does not need me to stand over her and guide her through the lessons." Read more from Jen's Journey.
This page may contain affiliate links.