---
SHARON'S BLOG
Involve your students in the excitement and issues surrounding the Winter Olympics with these six fun prompts and two bonus ones.
What would the Olympics look like in the Middle Ages? In Ancient Roman times? What new sporting event will your students cook up? Should countries and their athletes be banned? And what kind of music could athletes compete to or be inspired by?
Don't miss the extra links to more sporting fun at the bottom of this post!
Designed for grades 5-12.
Ready?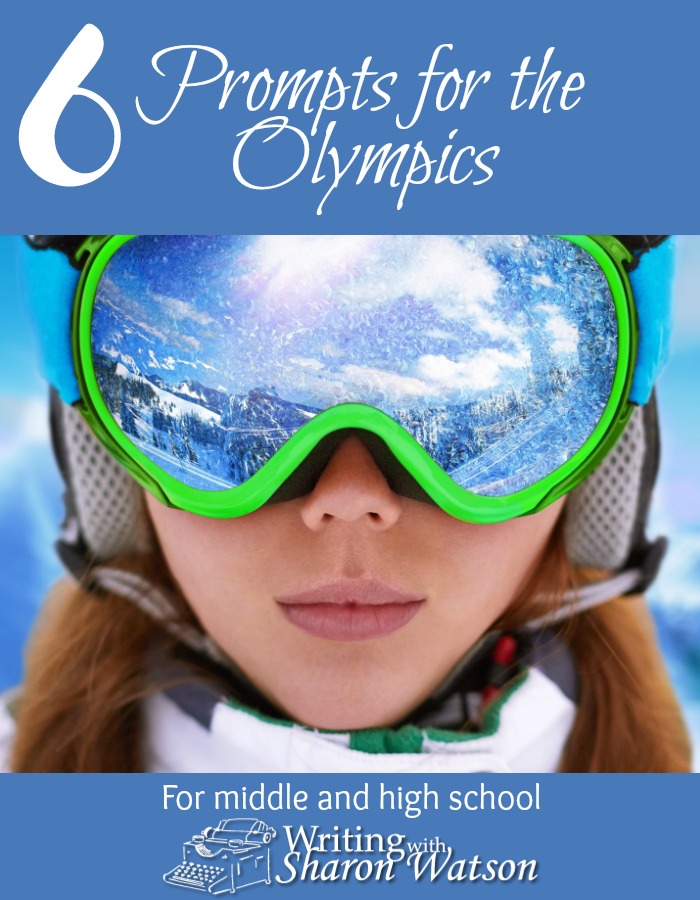 ---
Olympic-sized Fun
1. Olympics in the Middle Ages?
The original Olympics began in ancient Greece and involved events like running and wrestling; basically, skills used in combat. Only free Greek male citizens were allowed to participate in the events, according to the Olympic site, and the only women allowed to watch the Olympics were unmarried ones.
The modern Olympics started up in 1896 in Athens, Greece. Though a few sports competitions were held in countries that neighbored each other, there were a few thousand years with no truly international Olympic competitions. But what if Olympic-style contests were held in the Middle Ages? Would catapult or trebuchet teams compete? What events would the ancient Romans have included?
Think of another time period and devise a competition that would uniquely suit that period. Then write about who could compete and what they would have to do to win.
*****
2. A new event
According to Fox News and time.com, some people are hoping that video gaming will become an Olympic sport. Video games like World of Warcraft are on the list to be considered.
-Do you think e-sports should be official Olympic events? State your opinion and give at least one solid reason for it.
-What sport or event would you like to see added to either the Summer or Winter Olympics? Write a letter to persuade the International Olympic Committee (IOC) to include it. Give at least one solid reason why they should add this sport or event. Follow this link for a listing of current Olympic events in both summer and winter.
*****
3. Banned!
From time to time, particular countries are banned from participating in the Olympic games. For instance, in the 2018 Winter Olympics in PyeongChang, South Korea, Russia is banned from the games because of their overt use of performance-enhancing drugs. However, Russian athletes will be allowed to compete under the Olympic flag, wearing Olympic colors, not the colors of their country, if they can pass drug tests.
Other countries have boycotted the Olympics by refusing to allow their athletes to participate in the competitions. When the Soviet Union invaded Afghanistan, the United States' then-President Jimmy Carter boycotted the Moscow Olympics in 1980, as did many other countries. Because those countries' athletes were in optimum condition and ready to compete, other games were quickly organized, allowing some of those athletes to compete in their chosen events.
-Do you think countries should be banned from the Olympics or that countries should boycott them?
*****
4. A new flag
The Olympic flag with its five interlocking rings is easy to identify. The five colorful rings represent the continents of Asia, Africa, Australia, Europe, and the combined continents of North and South America. The rings interlock to represent harmony among the nations.
Design a new flag for the Olympics. Then explain in a paragraph what the colors and items on the new flag symbolize.
*****
5. Music to compete by
Perhaps the most recognized musical theme of the Olympics is "Olympic Fanfare and Theme," written by composer John Williams for the 1984 Summer Olympics. You can listen to it on YouTube here. John Williams also wrote the music for Jaws, E.T., the Indiana Jones and Jurassic Park movies, and, of course, Star Wars.
It is your job to coordinate music with certain Olympic events. Choose your event (you'll find the summer and winter ones here) and choose your music. You may write new music to inspire or motivate the athletes, or you may choose existing music. Explain your choices.
*****
6. Your own Olympics
If you were to devise your own Olympic events for your friends, school or homeschool group, which would you include? How would people qualify for the events? What kind of medals would you award? Write your ideas and plans.
*****
7. Bonus: Be the coach.
You are the coach of an Olympic team, and they are losing their motivation. Injuries, illnesses, and a few losses have really affected them negatively, and they are down.
It is your job to inspire them. Write a short speech that will encourage your team on to greatness.
*****
8. Bonus: Ban the letter O.
In honor of the Olympics this week and next, consider picking up James Thurber's The Wonderful O that follows pirates Black and Littlejack through their zany word fun and adventures. Black hates the letter O so much that he's named his ship the Aeiu!
For some word fun of our own, let's ban the letter O as we ask our students to write a paragraph about the Olympics or any other subject they are interested in. This attention to detail helps students to be aware of the words they are using. Plus, it's goofy! Oops! Too many Os. Hw abut crazy, weird, silly, r maybe truble, a prblem, and nt easy? 😉
*****
Other Olympic and sports-related prompts your students will enjoy:
What almost stopped this Olympian? >>
Copyright © 2018 by Sharon Watson.
Skier: Verona_studio | AdobeStock.com