---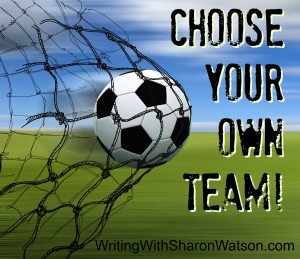 Soccer. The 2014 FIFA World Cup. It's a major worldwide sporting event that's drawing huge audiences.
The quarterfinals, semi finals, and finals will be played soon. You can learn more about them here.
Is this prompt about soccer? Maybe. Maybe not. It could be just a thinly veiled excuse to talk about teams.
Everyone belongs to a team of one sort or another: a family, support group, orchestra or band, volunteer group, class, church or synagogue, political group, place of work, and so on. Sometimes you don't get to choose which team you're on, but in today's prompt, you do.
Now it's your turn: If you were to be on a team, what team would it be? This does not have to be a sporting team or even a team that exists. You can make up one, if you wish.
Explain these things about your team:
-What are the criteria for belonging to the team?
-What does the team do best?
-What would your position be on this team?
-Whom else would you like on your team?
-How could this team be a winner?
Copyright © 2014 by Sharon Watson
Original image courtesy of graphicstock.com
Want daily writing prompts to tempt reluctant writers and delight eager ones? Find out more about Sharon's daily writing prompts posted on SchoolhouseTeachers.com under "Dailies" or click here.
---
 Hot off the press! Would you like ideas on developing a fun summer reading list for your children?

Click here

to read the brand-new article Sharon wrote for Rock Star Essay's site!
---
Get a FREE writing lesson by subscribing to more high school writing prompts, middle school writing prompts, or Sharon's blog! Use the Subscribe form in the column to the right.
---