---
Looking for basketball-related writing prompts? Whether your students are sports enthusiasts or not, you've come to the right place!
Have you ever seen tournament brackets like the one in #1? Free printable included!
Fun for students in 5th – 12th grade. Dig in!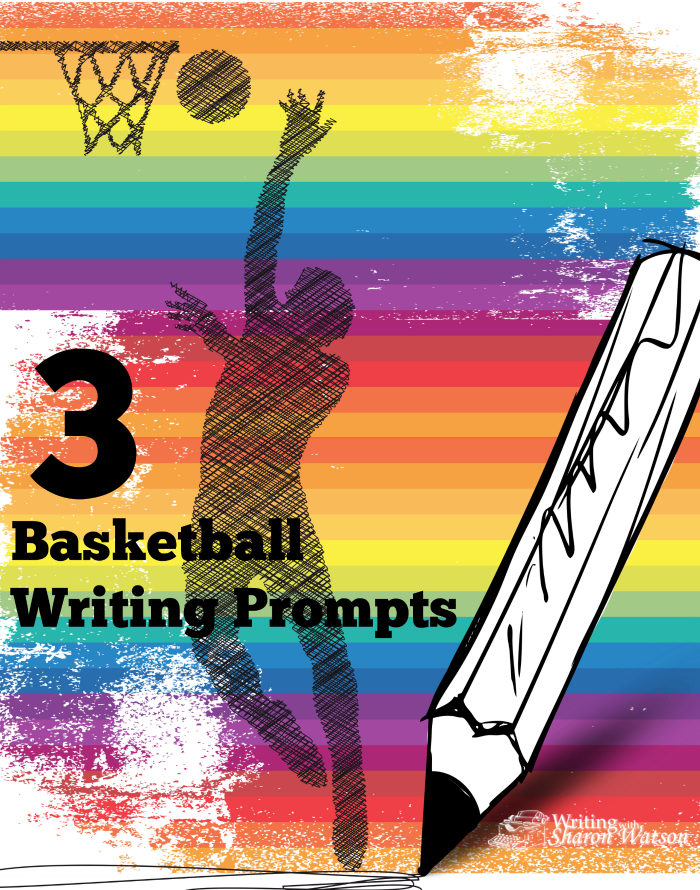 1. Brackets
An integral part of the fun of watching the NCAA Basketball Tournament for the Men's National Championship is filling in your own bracket list with teams you think will win certain games and lose others.
But suppose your teams are not college basketball teams? Suppose your brackets are composed of villains and heroes? Who would win in the championship round?
Click here to download your villain/hero brackets. Fill in the "teams" with four villains on the left and four heroes or heroines on the right. Then decide who would win each match-up and eventually win the championship.
2. Basketball Words
Below is a list of basketball terms:
Hoops. Basket. Foul. Dribble. Traveling. Walk. Guard. Screen. Pick. Paint. Back door. Offensive. Defensive. Key. Assist. Forward. Bench. Pivot. Lane. Violation. Swish. Pass. Palming. Charge.
Use five of those words in a paragraph of your choosing: story, description, nonfiction, and so forth. The only catch is that you cannot use those words in their basketball meanings. Use the meanings those words have in other settings.
(Feel free to change the form of any word, like the verb tense or number. For instance, you may use "swishing" instead of "swish" and "keys" instead of "key.")
3. A Sporting Event
You're going to a sporting event. Would you rather be a player on the team, a coach, a referee or umpire, a parent cheering a player on, an owner or manager, an announcer making the play-by-play calls, a photographer of the game, a concession-stand worker, a fan, or other participant?
Make your choice and then explain why you chose it.
*****
Would you like other prompts related to sports? Here's one on choosing your own team. And here's another on developing a new medal.
Enjoy our Middle School Prompts and High School Prompts.
A version of this prompt was first posted on SchoolhouseTeachers.com. You can go directly to SchoolhouseTeachers.com to sign up and take advantage of all Sharon Watson's daily prompts and many exciting courses written by other experts in their fields, or click here to see Sharon's courses you can enjoy on SchoolhouseTeachers.com.
This post contains affiliate links.
Copyright © 2016 by Sharon Watson
Original basketball image: graphicstock.com
Basketball image: Sharon Watson
Original brackets image: http://toplowridersites.com/8-team-tournament-bracket-template/
Villain/hero brackets image: Sharon Watson