---
Our students are very good at expressing their opinions, especially when they want to change our minds!
What they don't understand is that if they truly want to change someone's mind, they have to stop thinking about themselves and start thinking about their audience.
This tutorial, with a free infographic to download, will show your students very clearly the difference between writing an opinion and writing to persuade an audience.
Opinion versus Persuasion
Writing or expressing an opinion is all about what your student likes; convincing a parent or friend to do something is all about what the parent or friend needs to hear to be persuaded.
Here's an infographic to teach your students the difference between writing an opinion and writing to persuade. After the infographic, I've included a short writing exercise your students can do quickly. My writing class just did it, and they had fun sharing their ideas about alligators, snow leopards, snakes, and so forth. I enjoyed watching those invisible lights turn on over their heads!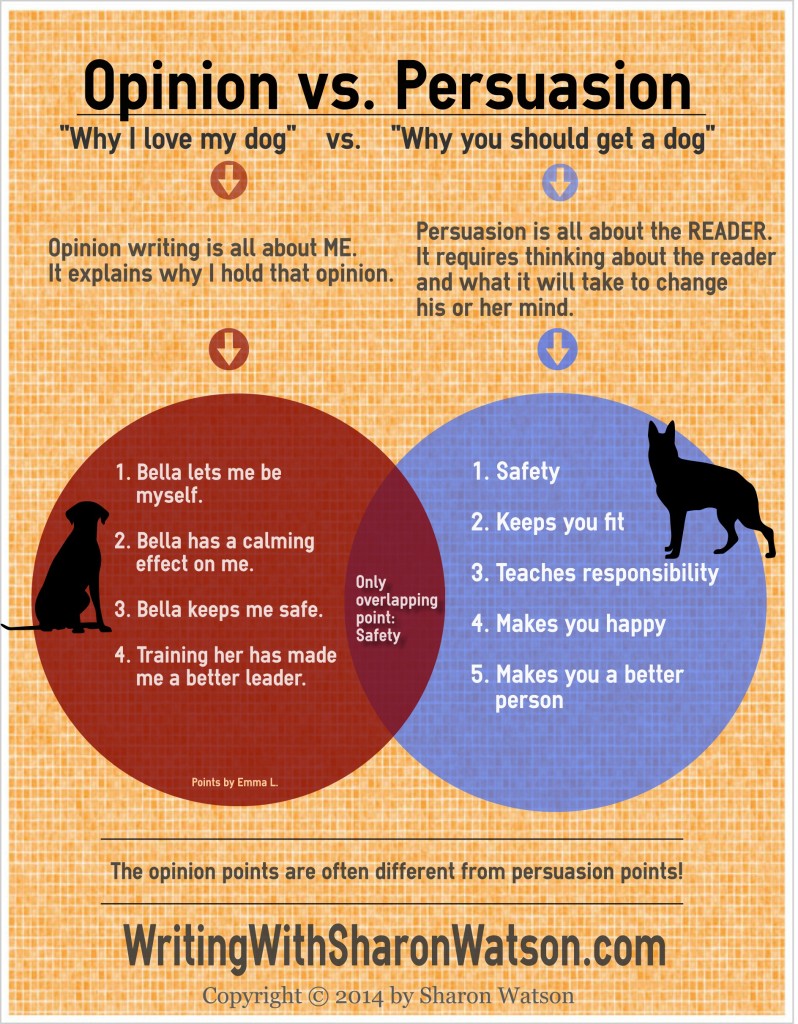 To download the infographic for the tutorial, click here.
Writing exercise: Teachers, give this to your students one step at a time. The "aha" moment in item 3 happens only if students write item 1 without knowing about item 2.
1. Write your opinion of an animal you love or hate. It can be a particular animal ("I love my pet alligator") or all animals of a kind ("I hate all snakes"). Then make a list of about 3-5 reasons why you love or hate this animal. When you have finished your list, put it aside.
Note: When students have strong feelings about their topic, writing is easier. One student in my class had a hard time coming up with three reasons why she disliked her animal. I asked her to think about an animal she had some strong feelings about—really loved or truly hated. She switched her animal to snakes and wrote four wonderful reasons why she hated snakes.
2. Now you are going to persuade a friend to buy this animal as a pet. Make a list of 3-5 reasons why your friend should buy this animal as a pet. Or, if you wrote about a hated animal, persuade a friend NOT to buy this animal as a pet. Make a list of 3-5 reasons why your friend should avoid this animal as a pet.
3. Look at both lists. How many reasons are the same in both lists? How many are different? WHY are they different?
By now I hope it is clear that when people write to persuade others, they have to think of their audience and make their list of points fit that audience. Take yourself out of the equation and try to connect your audience with your topic.
If you want to take this lesson further and assign a short persuasive essay, you'll find a great list of 100 persuasion topics here.
*****
Other tutorials on how to write persuasively:
Avoid these three mistakes >>
Three powerful persuasion tools >>
Three effective persuasion strategies advertisers and politicians use >>
5 powerful strategies found in an important speech >>
You'll find this practical lesson and others in The Power in Your Hands: Writing Nonfiction in High School.
Use the comment box below to let me know how this worked for your students, and feel free to share this article with others by using the Share buttons below!
Yours for a more vibrant writing class,

.
Copyright © 2014 by Sharon Watson
Opinion versus Persuasion infographic copyright © 2014 by Sharon Watson
Original image courtesy of olly / dollarphotoclub
Teachers, connect with Sharon on Facebook or Pinterest!
---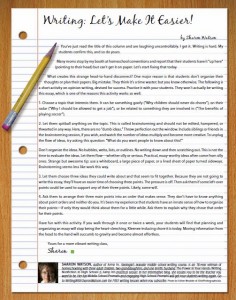 Does the word "outline" send your students into a tailspin? Worry no more! Click here for my latest article in The Informer about an unorthodox method of organizing an essay that really works!
---
Want daily writing prompts to tempt reluctant writers and delight eager ones? Find out more about Sharon's daily writing prompts posted on

SchoolhouseTeachers.com

under "Dailies" or

click here

.
---
Get three FREE writing lessons by subscribing to Writing with Sharon Watson! Use the Subscribe form in the column to the right.
---
---
Get your middle school student ready for high school with this popular writing curriculum from Writing with Sharon Watson, published by Apologia! Featured in Cathy Duffy's 102 Top Picks for Homeschool Curriculum, Jump In will prepare and even amuse your students as they learn the fundamentals of effective essay writing and storytelling.