---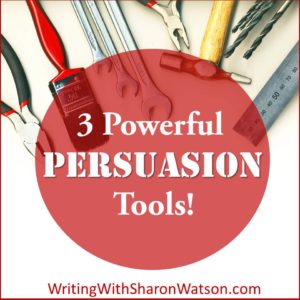 If your writer is reluctant, writing opinions is a good place to start. Everyone has opinions, and most students like to express theirs.
Opinions are all about the writer: "I love  . . . ," "I think people should . . . ," "I hate it when . . . ."
Writing to persuade someone else, on the other hand, is all about the reader. Your students will think about what they have to write in order to convince someone to do something or believe a certain way. A persuasion essay needs a few important tools.
Last week I wrote about three mistakes your students should avoid in persuasive writing. You can find that post here.
This week, let's delve into some powerful tools they can use when writing to convince an audience in a persuasion essay.
1. Know your audience. This is the pivot point around which all the rest of the essay revolves. Example: If the topic is "why little kids shouldn't drink sugary drinks," your students need to know if they are writing to parents, to babysitters, to the little kids, or to lawmakers. Each audience will require its own set of reasons.
2. Use plenty of quotations from experts and reliable facts. Simply writing that sugary drinks will rot a little child's teeth is not enough to convince readers. Students have to find quotations from experts in the field of children or dentistry so that readers will believe the statement about rotting teeth. Readers tend to react positively to quotations from experts, especially if the experts are truly in the topic's field and the quotation is spot-on. Example of a quotation and its attribution:
Dr. Strait, an orthodontist from Love Your Teeth Dentistry, states, "People think that a cavity in a baby tooth is okay. After all, it's just going to fall out. But healthy baby teeth are essential to healthy adult teeth."
3. Use a specific, measurable call to action. "We need to fix this" is not specific or measurable. Students should think about what they want readers to do as a result of being persuaded. Do they want them to contact an elected official? Then they'll include telephone numbers or email addresses. Do they want parents to stop buying sugary drinks? Then they'll say so. Do they want little kids to stop drinking sugary drinks? Then their call to action might be something like this: "The next time you want to drink that sugary drink, think about painful, smelly, rotting teeth and then choose milk, fruit juice, or water to drink. Your teeth will thank you."
Here's a persuasion writing activity you can do with your students.
First, tell them they won't actually be writing this essay. You'll be surprised how engaged they'll become when they hear that good news! Next, give them a fun or interesting topic to brainstorm, something like "why little kids shouldn't watch horror shows." The points can be anything from silly to serious. Let 'er rip! Then give them an audience to write for, one at a time: parents, kids, babysitters, filmmakers, and so on. As you announce the audience, let your students choose which brainstormed points they'd use to persuade that particular audience. Light will dawn when they see that each audience requires a different set of reasons.
Before you finish, have them make up a quotation from an expert. Then have them write out a specific, measurable call to action for one of the audiences you mentioned earlier.
These three powerful tools for writing persuasion essays are taken from a longer list in The Power in Your Hands: Writing Nonfiction in High School. You can read more about that course here.
Yours for a more vibrant writing class,

.
Copyright © 2010-2014 by Sharon Watson
Image courtesy of graphicstock.com
Teachers, connect with Sharon on Facebook or Pinterest!
---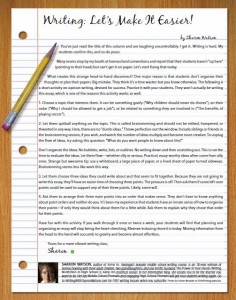 Does the word "outline" send your students into a tailspin? Worry no more! Click here for my latest article in The Informer about an unorthodox method of organizing an essay that really works!
---
Want daily writing prompts to tempt reluctant writers and delight eager ones? Find out more about Sharon's daily writing prompts posted on

SchoolhouseTeachers.com

under "Dailies" or

click here

.
---
Get three FREE writing lessons by subscribing to Writing with Sharon Watson! Use the Subscribe form in the column to the right.
---
---
Get your middle school student ready for high school with this popular writing curriculum from Writing with Sharon Watson, published by Apologia! Featured in Cathy Duffy's 102 Top Picks for Homeschool Curriculum, Jump In will prepare and even amuse your students as they learn the fundamentals of effective essay writing and storytelling.
Did you find this article helpful? Feel free to share it by using the buttons below.