---
Can your children and teens clearly express their ideas about God?
Students in my classes always have the hardest time when asked to write about God. They simply cannot communicate their thoughts, experiences, definitions of religious terms, or what God means to them. And most of these students have been brought up in Christian homes.
These prompts about God are for 5th – 12th graders and are designed to give them a chance to explore concepts about God and express their ideas on this most important topic.
Ready? Let's go . . .
*****
1. Describe
Describe God as completely as possible in exactly 50 words.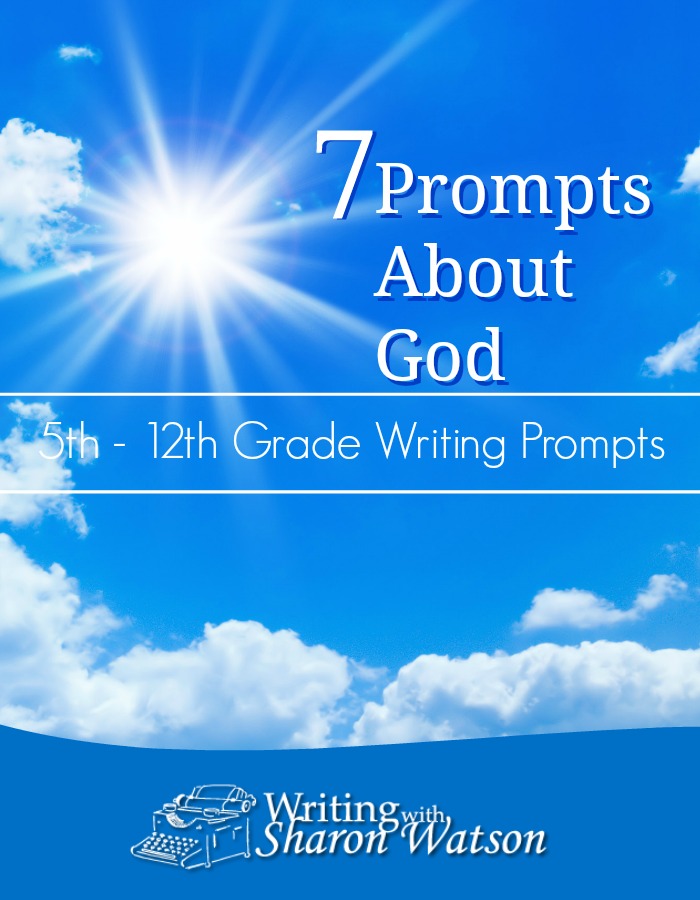 2. Santa Claus Versus God
Young children often mix up Santa Claus and God around Christmas time because they share some qualities.
Yes, you read that right. Santa Claus and God have some features in common, yet they are vastly different in other areas.
When comparing and contrasting two people or items, it is sometimes helpful to make lists of similarities and differences or make charts of the features of the two things being compared.
Download this worksheet and decide whether you want fill in charts of features or lists.
Then write one or two paragraphs comparing and contrasting Santa Claus to God.
If you use the chart, you'll want to compare and contrast the features or traits of Santa and God.
If you make lists in the boxes, the first half of the paragraph will be about Santa Claus. The second half will be about God (or the other way around). Write a transition sentence between the two topics to lead your reader from Santa Claus to God.
3. He Cannot
Make a list of all the things God cannot do and never does. For instance, He cannot lie (Hebrews 6:18, Numbers 23:19). When you make your list, it is not necessary to include Bible references.
4. A Poem
Write a poem to God to thank him for something you appreciate about Him or for something He's done for you.
Begin the first word of every line with the first initial of your name.
5. Lamentations and Faithfulness
Jeremiah is surrounded by death. His country is being destroyed and ransacked, and his friends, neighbors, and family members are being dragged off in chains to a foreign land. Yet in the middle of Lamentations, his song of deep lament, he writes this: "But this I call to mind and therefore I have hope: Because of the Lord's great love, we are not consumed. For his compassions never fail. They are new every morning. Great is thy faithfulness" (Lamentations 3:21-23 NIV).
Write about a time of great trouble for you when you experienced God's love, mercy, faithfulness, or other positive attribute.
6. God Describes Himself
Moses asked God to show him God's glory, but God went a step further and also described himself to Moses. Here is God's amazing description of Himself, as recorded in Exodus 34:6-7:
The LORD, the LORD
the compassionate and gracious God,
slow to anger
abounding in love and faithfulness,
maintaining love to thousands and forgiving wickedness, rebellion, and sin.
Yet he does not leave the guilty unpunished; he punishes the children and their children for the sin of the fathers to the third and fourth generation.
Not only is there a progression in thought here but also a progression in language. And why wouldn't God use beautiful language? After all, He is the one who created it.
The first line is simply nouns. The second is adjectives. The third is adverbial. The fourth adds a verb (or a gerund, depending on how you want to read it). Same with the fifth line. The sixth line is a complete sentence, not a compilation of descriptors.
Write your own description of God. Follow his pattern from Exodus, if you wish, or devise your own pattern.
7. Others Describe God
Read the following verses in which Bible writers are describing attributes of God. Then choose one and write what it means to you or write about a time when you experienced that specific trait of God.
Psalm 46:1—"God is our refuge and strength, a very present help in trouble."
Lamentations 3:22-3—"For his compassions never fail. They are new every morning. Great is thy faithfulness."
II Thessalonians 1:6-7—"God is just: He will pay back trouble to those who trouble you and give relieve to you who are troubled, and to us as well."
*****
Here's another prompt of a spiritual nature that the whole family can enjoy. >>
And here's one on miracles. >>
Looking for fun middle school prompts? Follow this link. >>
Would you like engaging high school prompts. Follow this link. >>
*****
Download a free sample of our popular middle school writing curriculum Jump In here.
Download a free sample of our updated and improved The Power in Your Hands: Writing Nonfiction in High School , 2nd Edition, with FREE Grading Grid samples here.
Download 2 free chapters of our unstuffy high school literature course Illuminating Literature: When Worlds Collide here.
Looking for a captivating literature course for your 7th and 8th graders? Download a free lesson from Their Blood Tingled here.
Do you have a story writer at home? Download a free sample of our elective Writing Fiction [in High School] here.