---
SHARON'S BLOG
Literature holds an Aladdin's cave of treasures that students can plunge their pens into.
Whether it's imitating good writing, pondering a topic in the story, or using the story to write another, your students will gain a healthy curiosity for great works of literature as they write.
To enjoy these fun prompts, knowledge of the following stories is not necessary.
Terms covered: epiphany, spatial description, and paraphrase.
These literature-based prompts are suitable for your 5th – 12th graders.
Ready to go treasure hunting?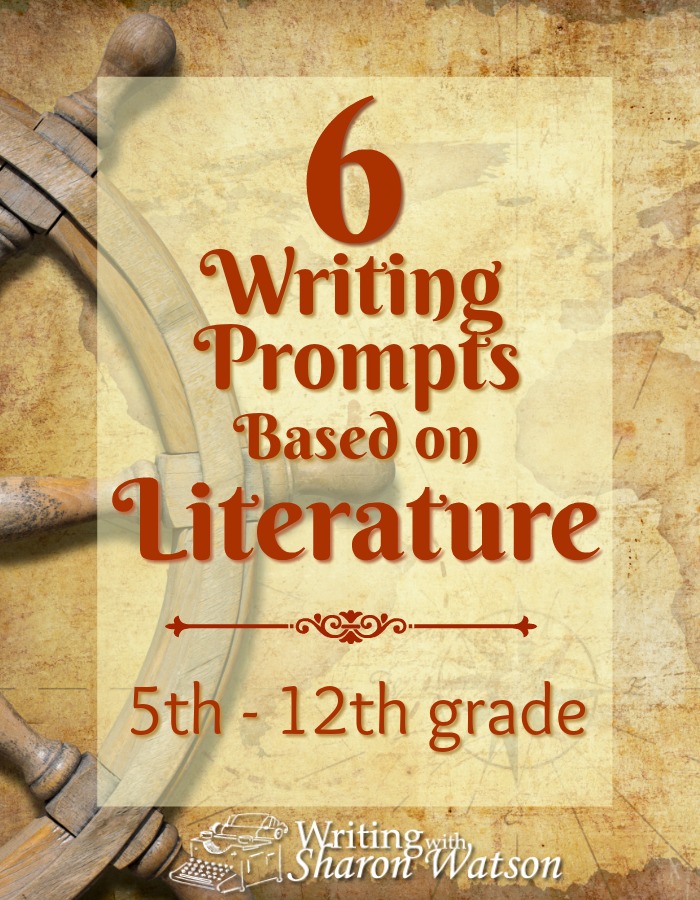 ---
Literature-Based Writing Prompts
1. To Kill a Mockingbird
Near the end of To Kill a Mockingbird by Harper Lee, young Scout has an epiphany (a sudden realization) of another character in the story. I won't give away anything else, but here's Scout, about eight years old, describing that character:
I looked from his hands to his sand-stained khaki pants; my eyes traveled up his thin frame to his torn denim shirt. His face was as white as his hands, but for a shadow on his jutting chin. His cheeks were thin to hollowness; his mouth was wide; there were shallow, almost delicate indentations at his temples, and his gray eyes were so colorless I thought he was blind. His hair was dead and thin, almost feathery on top of his head.
Notice that young Scout starts at her eye level and then moves up, from his hands to his shirt, to chin, cheeks, and so on.
Author Harper Lee chooses a direction in which to describe this character. This is called a spatial (SPAY-shul) description.
Now it's your turn: Choose a real person or a character from a movie or book to describe. Or make up a new character. Then describe this person or character using a spatial description. You can go top to bottom or even outside appearance to inner characteristics.
*****
2. Frankenstein
So, you're young Victor Frankenstein and you've created a monster from sewn-together parts of dead humans. This monster is huge (about eight feet tall) and scary, so you run out of the room when it comes to life, and you faint on your bed.
Years later, the monster finds you and threatens you. "I'm lonely," he says. "Make a female to be my wife, and we'll go away and leave you alone. If you don't do this for me, I'll kill all of your friends and relatives."
You think to yourself two things: (1) He really means it because he's already killed my brother, and (2) How do I know that his wife will stick to the plan and leave me alone?
What do you do now? Do you make a female? Faint again?
Now it's your turn: Write out your plans as if you were Victor Frankenstein.
*****
3. Frankenstein again
Captain Robert Walton, the narrator who introduces us to Victor Frankenstein in Frankenstein, writes, "I have no friend."
He's not throwing a pity party. He really feels lonely. He's the captain of a ship that's on a long voyage trying to find a passage to the North Pole, and there simply is no one else on board who is a companion to him.
What is he looking for in a friend?
I have no one near me, gentle yet courageous, possessed of a cultivated as well as of a capacious mind, whose tastes are like my own, to approve or amend my plans.
Now it's your turn: What do you look for in a friend? What qualities do you want them to have?
*****
4. The Elves and the Shoemaker
In the fairy tale The Elves and the Shoemaker by Jacob Grimm, little elves appear each night to secretly help a hard-working shoemaker become successful.
Now it's your turn: If you had a group of elves at your disposal every night, what would you have them do?
*****
5. The Last of the Mohicans
The Last of the Mohicans by James Fenimore Cooper is a tale of the adventures of forest guide Hawkeye and Mohican father-and-son companions Chingachgook and Uncas. The story takes place during the French and Indian War before America declared her independence from England.
Chingachgook and Uncas are the last of the noble tribe of the Mohicans, and [plot spoiler ahead] only one of them makes it out of the story alive, to be truly the last of the Mohicans.
Now it's your turn: If you were the last of something, what would it be or what would you want it to be? Write your ideas.
*****
6. The Last of the Mohicans again
Older readers: Read the following excerpt from The Last of the Mohicans by James Fenimore Cooper. This story happens during the French and Indian War, a war between the French and the British for control of the North American continent. Then write in your own words (paraphrase) what Cooper is telling us. Note: Take it one sentence at a time, if that will help you.
It was a feature peculiar to the colonial wars of North America, that the toils and dangers of the wilderness were to be encountered before the adverse hosts could meet. A wide and apparently an impervious boundary of forests severed the possessions of the hostile provinces of France and England. The hardy colonist, and the trained European who fought at his side, frequently expended months in struggling against the rapids of the streams, or in effecting the rugged passes of the mountains, in quest of an opportunity to exhibit their courage in a more martial conflict. But, emulating the patience and self-denial of the practiced native warriors, they learned to overcome every difficulty; and it would seem that, in time, there was no recess of the woods so dark, nor any secret place so lovely, that it might claim exemption from the inroads of those who had pledged their blood to satiate their vengeance, or to uphold the cold and selfish policy of the distant monarchs of Europe.
Younger readers: Read the following passage from I Peter 1:17-20 (NIV). Then paraphrase it (use your own, plain words) to reveal what it says. Note: Take it one sentence at a time, if that helps you.
Since you call on a Father who judges each man's work impartially, live your lives as strangers here in reverent fear. For you know that it was not with perishable things such as silver or gold that you were redeemed from the empty way of life handed down to you from your forefathers but with the precious blood of Christ, a lamb without blemish or defect. He was chosen before the creation of the world but was revealed in these last times for your sake.
*****
Interested in talking shoes (anthropomorphism)? >>
How about a moving description? >>
Or a creepy flat-screen wall TV and sensory imagery? >>
An here's a bundle of 13 delightful fiction-writing prompts to inspire your story writers. >>
Find more writing prompts for your middle school students here. >>
Your teens will enjoy these engaging prompts. >>
Copyright © 2017 by Sharon Watson
Image: Andrey Kuzmin | adobestock.com
Sharon Watson creates the daily writing prompts for SchoolhouseTeachers.com, where you'll find these prompts and hundreds more.