---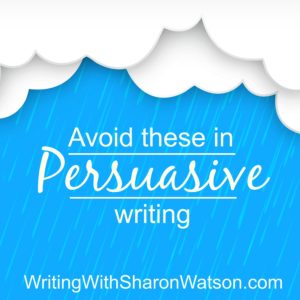 It's easy for our students to make these common mistakes in persuasive writing. I've seen them in any number of newspapers and magazines in letters to the editor, and they abound in student essays. I'm guessing you have seen them as well.
I won't keep you in suspense. Here's the list:
Don't insult your audience. Disagreeing with someone's viewpoint is one thing, but insulting them is something else. Watch out for name calling, rude remarks about the opposing view or those who hold it, or comments that insult the reader's intelligence. Being rude to your audience is not the optimum method to win over your readers. Examples: "Don't those kids know how stupid they look with all those piercings?" and "Intelligent people don't believe that anymore."
Don't go on and on. Students should hit their point, prove it with facts and examples, perhaps refute the opposing view, and then move on. Writing and writing about something shows that the student isn't focused and, most likely, didn't plan out the essay's points. And it's terribly boring to read, which means no one will.
Don't use "I believe" and "I think." There are any number of variations on this theme: "I choose to believe," "It is my opinion," and so forth. This mistake in persuasive writing, while appearing to be humble, only puts the emphasis on the writer instead of the opinion. Instead, writers should use facts, logic, stories, examples, or other tools at their command.
When speaking to friends or peers, "I" is acceptable. Avoid it in writing.
Here's a writing activity you can use with your children after you review these mistakes in persuasive writing with them:
Tell them to think of a pet peeve, something that really bugs them, and then write about that peeve. Examples might be chewing with one's mouth open or having to listen to music they don't like. They are to write to persuade others not to do it. HOWEVER, they are to break those "don't" rules. In other words, they are to insult their audience, go on and on, and use personal statements of belief.
Why write so badly? First, it's just plain fun. Second, by breaking the rules, your children will actually learn the rules. Third, they'll be able to identify them later in other's writing. For instance, they'll know when the writer has left the salient points of the argument and has fallen into name-calling or insults.
This "don't" list is taken from a longer list in The Power in Your Hands: Writing Nonfiction in High School. A mom recently told me this about The Power in Your Hands: "Before my daughter took your course, she hated to write. After she took your course, she decided to major in English and Composition. Now, she writes procedures for a major pharmaceutical company." What a great progression—from hate to competence and enjoyment!
Yours for a more vibrant writing class,

Copyright © 2011-2014 by Sharon Watson
Image courtesy of graphicstock.com
Teachers, connect with Sharon on Facebook or Pinterest!
---
---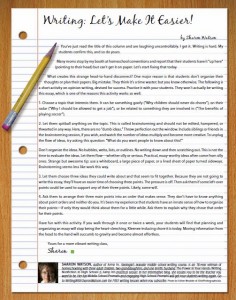 Does the word "outline" send your students into a tailspin? Worry no more! Click here for my latest article in The Informer about an unorthodox method of organizing an essay that really works!
---
Want daily writing prompts to tempt reluctant writers and delight eager ones? Find out more about Sharon's daily writing prompts posted on

SchoolhouseTeachers.com

under "Dailies" or

click here

.
---
Get three FREE writing lessons by subscribing to Writing with Sharon Watson! Use the Subscribe form in the column to the right.
---
---
Get your middle school student ready for high school with this popular writing curriculum from Writing with Sharon Watson, published by Apologia! Featured in Cathy Duffy's 102 Top Picks for Homeschool Curriculum, Jump In will prepare and even amuse your students as they learn the fundamentals of effective essay writing and storytelling.