---
SHARON'S BLOG
Do you wish you could communicate better with the special people in your life? Sometimes it's hard to talk or to come up with something brilliant to say. Other times you may have trouble connecting with family members.
At this time of year, you may be wondering what to give that special family member or friend, but did you know that once in a while, they don't want a new item. What they really would value is something personal from you.
Use these prompts to jot down your thoughts and ideas and then share them with others. This is your gift to them: you!
Each prompt comes with a free, colorful page you can print out and write on. Collect them all and begin a journal, if you wish. If you plan to give them as gifts, you can give certain pages as presents or gather all the pages into one gift.
These prompts are suitable for people in grades 5 – 12.
Ready? Let's do this . . .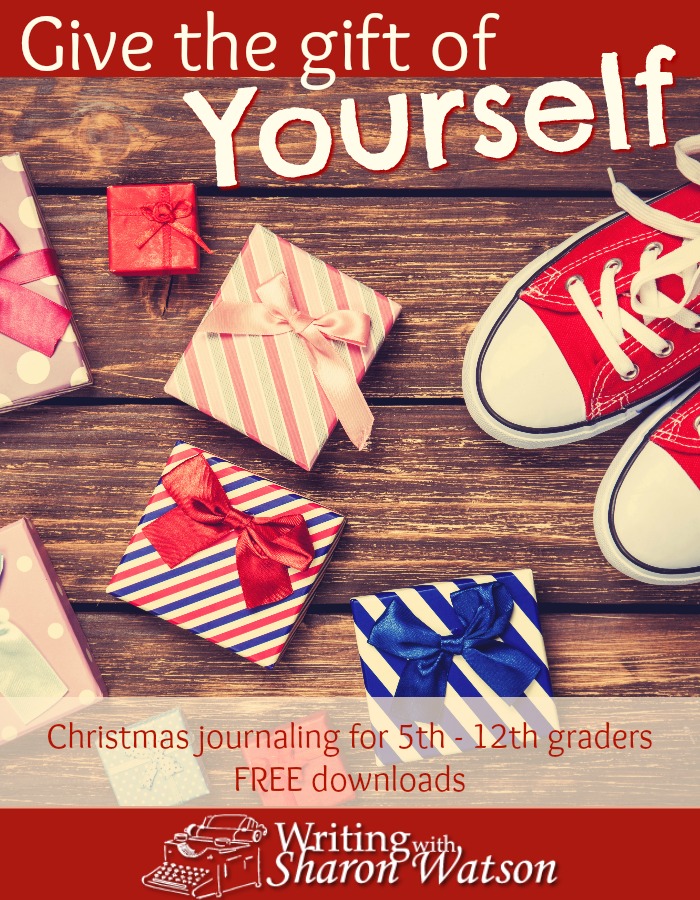 ---
Collect all 5 journaling pages!
1. Pet peeves
What are your pet peeves? What really bugs you? I can't stand it when someone walks behind me and knocks into my chair. What about you?
Download a free, colorful journaling sheet to make a list of your pet peeves. >>
*****
2. What I can't live without
What can't you live without? Air? Food? A kind word? A birthday party each year?
Download this colorful journaling sheet to list the things you can't live without.>>
*****
3. What I've lost/What I've found
Three of the houses I've lived in have been torn down. I could put that in my "What I've lost" column. I've found a dead mouse in my kitchen drawer, and I've found that I have more inner strength than I thought I had.
How about you? What have you lost? What have you found? Your lists can include concrete items like a dead mouse and abstract ones like strength. Include anything from silly to serious.
Download your colorful journaling paper here. >>
*****
4. What you might not know about me
What do you think the people closest to you might not know about you? This is a great conversation starter, especially in those awkward moments when you cannot think of anything to say.
Download your special journaling paper here. >>
*****
5. My accomplishments
You've accomplished much in your life, whether you feel like you have or not. Make a list of things you've accomplished, things like learning to play an instrument or breaking a bad habit. Think creatively about what you've done in your life. This is not bragging. This is simply listing what you've done.
Download your journaling page on your accomplishments here. >>
*****
Looking for fun middle school writing prompts? Look no further!
Engage your teen writer with these intriguing high school prompts.
*****
Download a free sample of our popular middle school writing curriculum Jump In here.
Download a free sample of our updated and improved The Power in Your Hands: Writing Nonfiction in High School , 2nd Edition, with FREE Grading Grid samples here.
Download 2 free chapters of our unstuffy high school literature courses Illuminating Literature: When Worlds Collide and Illuminating Literature: Characters in Crisis here.
Looking for a captivating literature course for your 7th and 8th graders? Download a free lesson from Their Blood Tingled here.
Do you have a story writer at home? Download a free sample of our elective Writing Fiction [in High School] here.
Copyright © 2016 by Sharon Watson.
Image credits: girl with gift by Khorzhevska | adobestock.com. Gifts and shoes by Masson | adobestock.com.