---
Assigning a how-to essay this time of year probably is not high on your priority list, but I wanted to give you something as a gift for Christmas that is from The Power in Your Hands: Writing Nonfiction in High School, 2nd Edition.
In this week's post, you'll find a mini lesson explaining what goes into a how-to or process essay, and you can download a printable evaluation form you can use to grade your 7th-12th graders.
No, this isn't a commercial thinly disguised as an informational blog. I'm not asking you to buy anything. Just wanted to say thanks for hanging in there with me this year.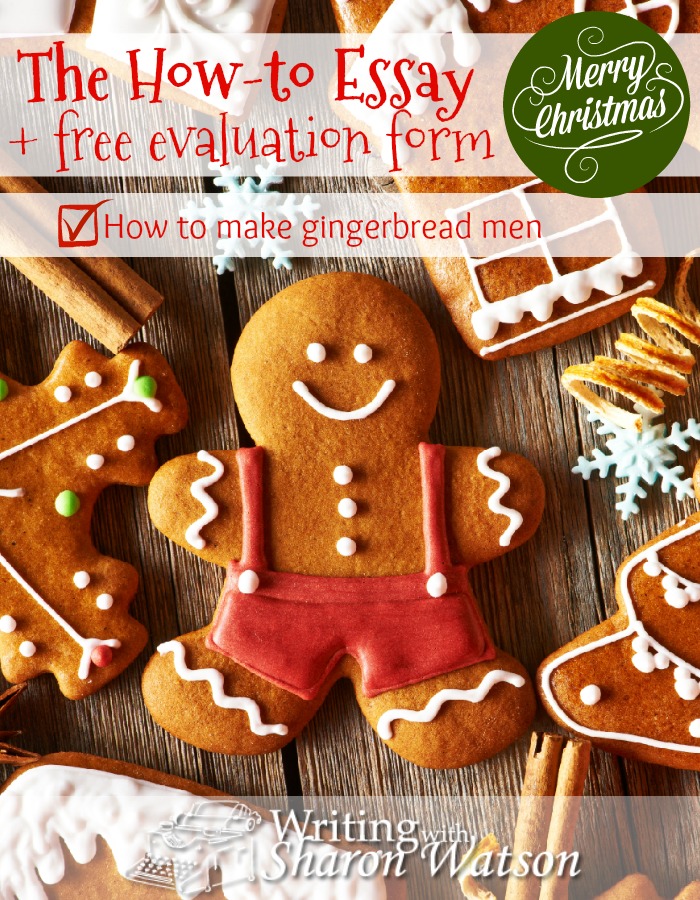 Short tutorial on the how-to essay
Here are the steps I use to teach a how-to essay (also called a process essay, showing the process of how something is done):
1. Know your audience. Are you writing for newbies or for old pros? Someone younger than you, your age, or older? Tailor your instructions to your audience's age, gender, and experience level.
2. Write an introduction to set the tone and to tell readers what you are going to teach them. For instance, if you love mowing the lawn, you'll describe the glorious scent of fresh-cut grass and how delightful it is to be outdoors. If you hate mowing the lawn, you might mention sunburn, mosquitoes, and so forth.
3. List items or ingredients the readers will need. 
4. Go step by step chronologically.
5. Be clear in your instructions.
6. Use transition words and phrases between the steps. Use words like "then," "after you have . . .," "just before . . .," "finally," and so on to keep readers tracking with you.
7. Include charts or pictures, if necessary.
8. Define any jargon.
9. Write a conclusion to tell readers what to do once they're finished.
.
Evaluation form for the how-to essay
Essays can be much easier to assign and grade if students know how they will be graded. Download the free evaluation form I use with my students. When I give them their how-to assignment, I also give them a form so they know what to aim for and what to expect when I grade their essays.
To download the form in a PDF, click here. >>
Here are a few ideas for Christmas how-to paragraphs or essays:
1.How to make gingerbread men
2.How to decorate the tree
3.How to buy the perfect present
4.How to appear excited when you are not
5.How to avoid coveting or envy during the Christmas season
6.How to bless someone who's lonely
The lesson is taken from The Power in Your Hands: Writing Nonfiction in High School, 2nd Edition.
The evaluation form is taken from The Power in Your Hands, Teacher's Guide and 21 Grading Grids for Popular High School Essays and the Position Paper.
For another lesson on how-to essays, with an emphasis on transitions, follow this link. >>
*****
Here are a variety of fun, Christmas-themed writing prompts for your middle school or high school students:
Learn about the fascinating story behind the Grinch here.
For a bundle of interesting Christmas prompts, click here.
To download free journaling pages your students can fill out and give as Christmas gifts, click here.
For a writing prompt on the famous poet Dylan Thomas and Christmas memories, click here.
If your students would like to write their own Christmas carol, click here.
For a chance to write the Christmas account from a different perspective, click here.
If they'd like to put themselves in the Christmas account, click here.
To write about what they would like to give to someone less fortunate than themselves, click here.
From my heart to yours, may your Christmas be merry as you celebrate the birth of our Savior, Jesus!
Yours for a more vibrant writing class,

.
.
Copyright © 2014-2016 by Sharon Watson
Child with Santa hat courtesy of fotoskaz / adobestock.com
Gingerbread man: haveseen / adobestock.com
Grading Grid for How-to/Process Writing copyright © 2016 by Sharon Watson
Do you have an idea for a writing prompt? Contact Sharon Watson by clicking here.
Teachers, connect with Sharon on Facebook or Pinterest!
---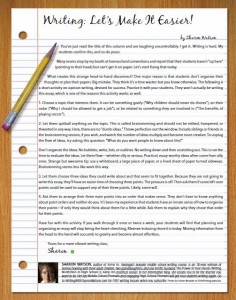 Does the word "outline" send your students into a tailspin? Worry no more! Click here for my latest article in The Informer about an unorthodox method of organizing an essay that really works!  
---
---
Want daily writing prompts to tempt reluctant writers and delight eager ones? Find out more about Sharon's daily writing prompts posted on

SchoolhouseTeachers.com

under "Dailies" or

click here

.
---
Get three FREE writing lessons by subscribing to Writing with Sharon Watson! Use the Subscribe form in the column to the right.
---