---
Compare and Contrast: 2 Solid Methods
Have your students ever been asked to write a compare-and-contrast paragraph or essay but don't know where to begin? Do they have trouble organizing their thoughts and information before comparing and contrasting?
Your 5th – 12th graders will learn two solid methods for compare-and-contrast writing with this free tutorial. It's packed with two separate exercises, one for each method,  and contains  complete instructions and colorful worksheets. Your students will learn how to organize their thoughts before writing with either method, and then they'll write two paragraphs using each method.
Students already know how to compare and contrast in real life: They do it every time they want to buy something and are torn between two choices. They go through the process mentally, and it's likely automatic and subconscious.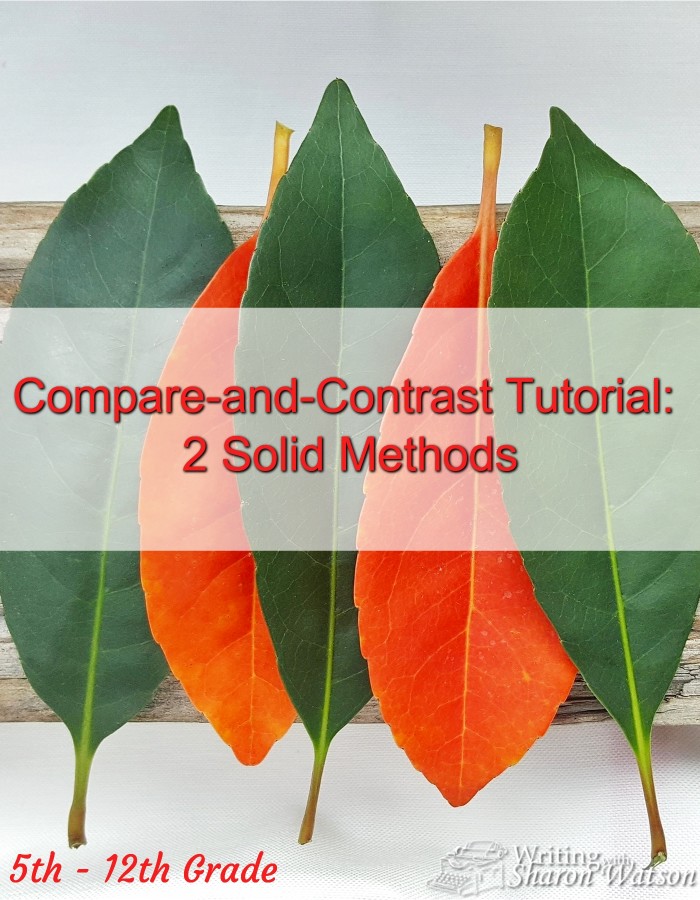 Give them the tools they need to translate their thoughts into written words, paragraphs, and essays with this free download.
They'll be exploring the topic of autumn versus spring. Students learning a new method of writing (compare and contrast, in this case) will appreciate the simplicity of the topic so they don't get bogged down.


*****
Would you enjoy a family writing prompt on the subject of comparing and contrasting?
Looking for fun middle school writing prompts? Look no further!
Engage your teen writer with these intriguing high school prompts.
*****
Download a free sample of our popular middle school writing curriculum Jump In here.
Download a free sample of our updated and improved The Power in Your Hands: Writing Nonfiction in High School , 2nd Edition, with FREE Grading Grid samples here.
Download 2 free chapters of our unstuffy high school literature course Illuminating Literature: When Worlds Collide here.
Looking for a captivating literature course for your 7th and 8th graders? Download a free lesson from Their Blood Tingled here.
Do you have a story writer at home? Download a free sample of our elective Writing Fiction [in High School] here.
Copyright © 2016 by Sharon Watson.
Photo credits: orange and apple by Kimberly Reinick | dollarphotoclub.com. Leaves | stencil.com
Image credits: Sharon Watson