---
SHARON'S BLOG
An edict. A carol. A strange decoration.
What do all these have in common? They are all part of our fun Christmas prompts.
Enjoy these prompts created especially for 5th – 12th graders.
Ho, ho, ho, and away we go . . .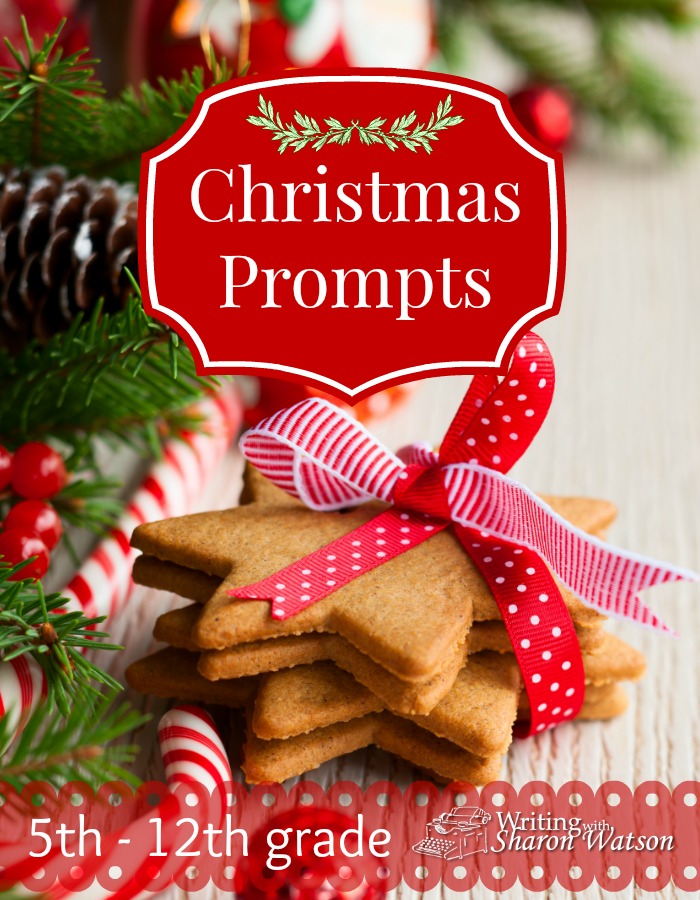 ---
Christmas Prompts
1.Christmas is outlawed!
In the mid-1600s, celebrating Christmas was outlawed in England. Two of the reasons for this startling ban were politics, which at the time was mixed up in the Catholic/Protestant power struggle, and festivities that, to some, were over the top.
Some in power perceived Christmas to be a Catholic event, so they spurned it. The English Parliament wrote against it, meeting on that day as on any other, for they felt the celebration gave "liberty to carnal and sensual delights," according to historyextra.com.
Oliver Cromwell and the Puritans were in charge of England at this time, and they were troubled by what they saw at Christmas time and the festivities of the 12 days afterward: dancing, singing, drinking, gambling, overeating at feasts, carnivals, and the like. "It's no surprise that the daily celebrations often led to drunkenness, promiscuity, gambling and other forms of excess," reports timetravelbritain.com.
Pro-Christmas riots occurred. Apprentice boys refused to go to work on Christmas. People were punished for celebrating Christmas while others kept their traditions secretly.
Now it's your turn: Choose from one of the following options.
 1. If it became illegal for you to celebrate a religious holiday, what would you do? Write your ideas, thoughts, or plans.
2. You are in England in the mid-1600s in the midst of a civil war. The king's life is at stake. Loyalties are put to the test ("If you celebrate Christmas, you are for the king. If you don't, you have taken sides against the king and are for Oliver Cromwell and the Puritans"). It was a dangerous time to be alive. Write your story or journal entries for those days around Christmas, which is banned.
3. The Puritans were very troubled by the spiritual conditions and immorality they saw around them, and they tried to fix these things. In your opinion, what is one good method to right the wrongs you see in your country today?
*****
2.Shhh! It's a silent night.
Father Joseph Mohr wrote the words to "Silent Night." The country: Austria. The year: 1816. Soon after that, his good friend Franz Gruber wrote the melody as an arrangement for guitar.
Here are the original words, translated from German, to this famous Christmas carol we've been singing for approximately 200 years:
Silent night, holy night,
Bethlehem sleeps, yet what light,
Floats around the heavenly pair;
Songs of angels fills the air.
Strains of heavenly peace.
There's a very poignant story about this carol during a bitter cold Christmas Day in World War I. A Christmas truce was called in 1914, and during those quiet hours, soldiers from Britain, France, and Belgium crawled out of their wet trenches and sang a Christmas carol. Then soldiers from Germany sang one. They went back and forth like this for some time. Occasionally, they sang together in their own languages songs like "Silent Night/Stille Nacht! Heilige Nacht" and "O Come All Ye Faithful/Adeste Fideles." How special those peaceful moments must have seemed to those war-weary soldiers.
Now it's your turn: You know the song. You know the music. And now you know an almost impossible story about it. Write another verse to this popular carol.
*****
3.What is this doing on the tree?
Stars. Bulbs. Lights. Garland. You expect these on a Christmas tree, but while looking at holiday decorations in stores, have you ever seen a Christmas pickle? You know, that green glass ornament that looks like a knobby pickle.
Many legends surround this strange decoration, but, basically, if you find the pickle hiding on the tree, you get an extra present.
Now it's your turn: Devise a new Christmas tree ornament. Make up a story of where it came from. Will the person who finds it receive something special?
Other Christmas prompts you're sure to enjoy:
A Christmas Carol Born of Pain >>
Dylan Thomas: His Christmas Memories and Yours >>
Write a Christmas Carol >>
The Christmas Account from a New Perspective >>
Your Turn to Give for Christmas >>
There's a Song for That! >>
'Tis the Season for Giving >>
The True Story Behind the Grinch >>
*****
Looking for fun middle school writing prompts? Look no further!
Engage your teen writer with these intriguing high school prompts.
*****
Download a free sample of our popular middle school writing curriculum Jump In here.
Download a free sample of our updated and improved The Power in Your Hands: Writing Nonfiction in High School , 2nd Edition, with FREE Grading Grid samples here.
Download 2 free chapters of our unstuffy high school literature course Illuminating Literature: When Worlds Collide here.
Looking for a captivating literature course for your 7th and 8th graders? Download a free lesson from Their Blood Tingled here.
Do you have a story writer at home? Download a free sample of our elective Writing Fiction [in High School] here.
Copyright © 2016 by Sharon Watson.
Image credits: Nativity scene by Cornelis Schut. Christmas cookies by sarsmis | adobestock.com.e