---
SHARON'S BLOG
Are you looking for a way to focus your students' minds and hearts on the meaning of Easter?
Our special Easter prompts will help your students think deeply on the events and meaning of our dear Savior's death and resurrection.
These 7 prompts are arranged chronologically from Jesus' Triumphal Entry through Thomas's epiphany a week after the resurrection.
Included are prompts with poetry, story writing, definitions, opinions, and more.
Suitable for students in grades 7 – 12.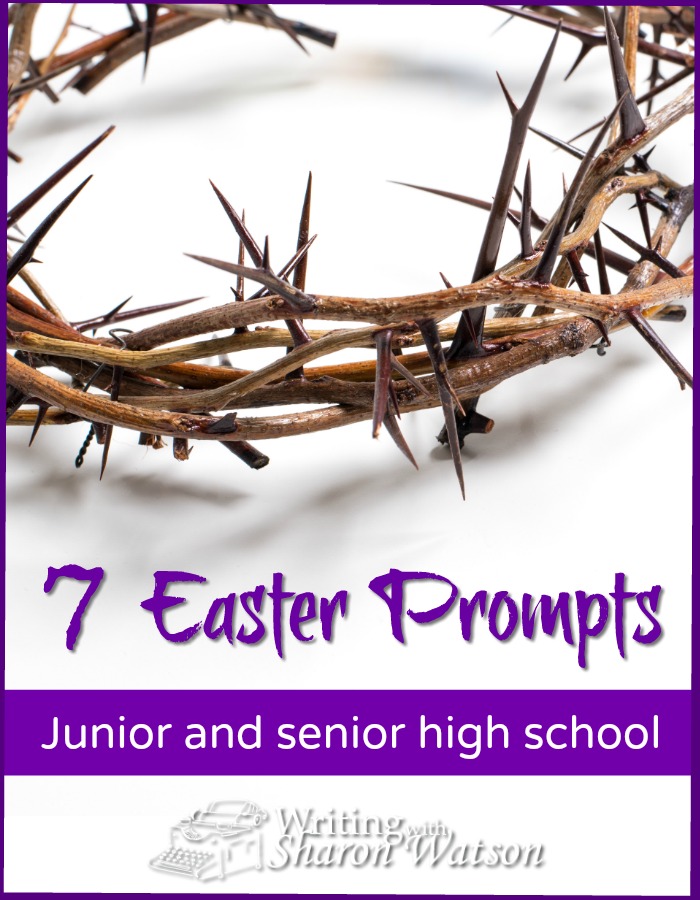 ---
7 Easter Prompts
1. Triumphal Entry
A week before Jesus was crucified, he entered Jerusalem in an impromptu parade, a celebration of sorts. In fact, it was so noisy and happy that the Pharisees observing the crowd told Jesus to tell his disciples to put a lid on it.
Jesus came back with, "If they keep quiet, the stones will cry out" (Luke 19:40 NIV).
Stones crying out—now that would be interesting to hear!
Now it's your turn: What do you think the stones would have shouted or sung at the moment they saw Jesus? Write down your ideas.
Read about the Triumphal Entry in Luke 19:28-44 and continue the action as though the stones really had cried out. What would have happened next? How would people have reacted?
*****
2. What is truth?
In Jesus' trial, he stands before Pilate, the Roman governor of Judea. Pilate questions him about being a king and having a kingdom, which would have threatened the Roman Caesar's rule at that time.
At one point, Jesus tells Pilate that "everyone on the side of truth listens to me," to which Pilate replies, "What is truth?"
This is a rhetorical question. He expects no answer and continues speaking. You can read about this shocking trial in John 18:28-40.
Now it's your turn to answer Pilate's question: "What is truth?" Answer the question using only 45-50 words. Rewrite your first draft, if necessary, for I suspect there may be a lot of crossing out of words and ideas at first.
*****
3. Psalm 100
The Psalms in the Bible are poems and would have been sung in their original language of Hebrew. They do not rhyme, and they didn't rhyme in the original Hebrew. Those poets relied on rhythms and devices such as repetition for their poetry.
Now it's your turn: Get your Bible and read Psalm 100. Then write it as a poem that rhymes.
*****
4. What the centurion knew
One of the Roman centurions guarding Jesus on the cross was so overcome that he cried out, "Truly this was the Son of God!" You can read about what prompted him to shout this in Matthew 27:45-54.
Now it's your turn: After you read the account, describe what the centurion observed that caused him to come to his conclusion. Use as many senses as possible.
*****
5. Peter's denial
Read about Peter's denial of Jesus in John 18:15-18, 25-27. Most likely, you have read this before and have heard sermons or homilies on it.
Now it's your turn to have something deep to say about it. After you read the passage, write the outline for a sermon. The outline does not have to be highly structured or official. Simply list points you would like to make.
Write out one of the points into a paragraph or write up the whole sermon.
For help with outlines, follow this link. >>
*****
6. What's so good about it?
We honor Good Friday as the day Jesus died as a sacrificial lamb for our sins. People who are not familiar with the historical accounts may ask, "But what's so good about it? Why do you call it 'good' if your God died that day?" To them, it would seem like a bad day, not a good one.
Now it's your turn: What can you tell them?
*****
7. Brother Tom, without a doubt
Jesus is alive!
But not all of Jesus' disciples knew that or believed it right away. Thomas was not in the original group of disciples who saw Jesus that Sunday morning. It was not until a week later that Thomas, very much doubting the reports of Jesus' resurrection, met the risen Lord.
Now it's your turn: Read the account of doubting Thomas in John 20:24-31. Now write the account as though you were Thomas. Include his thoughts. What did he feel? What did he see? What were his reactions? How did he feel at the moment of his epiphany (his realization)?
For a fun—and very old—song with the phrase "Brother Tom, without a doubt" in it by famed guitarist Phil Keaggy, follow this link. >>
*****
Looking for more Easter prompts?
Symbols of Easter, suitable for 5th – 12th grade >>
7 prompts on repentance >>
Write the story of someone who was at the Resurrection. High School >>
Write the story of someone who was at the Resurrection. Middle School >>
Explore our fun writing prompts for your middle school students here. >>
Your teens will enjoy these engaging prompts. >>
Grab your fantastic samples and lessons available from Writing with Sharon Watson for FREE. >>
Copyright © 2017 by Sharon Watson
Photo credit: Michael Flippo / Adobestock.com
Image credit: Sharon Watson
A version of this prompt was first posted on SchoolhouseTeachers.com. You can go directly to SchoolhouseTeachers.com to sign up and take advantage of all Sharon Watson's daily prompts and many exciting courses written by other experts in their fields, or click here to see Sharon's courses you can enjoy on SchoolhouseTeachers.com.
This post contains affiliate links.