---
.
One amazing online source for all sorts of lessons for your homeschool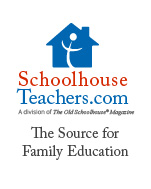 needs is SchoolhouseTeachers.com, a division of The Old Schoolhouse Magazine.
You download. You teach.  With one reasonable, monthly fee, you can download any lessons you wish for any grade level.  No need to live in your van! Help is a click away!
Join SchoolhouseTeachers.com to take advantage of these spot-on lessons written by Sharon Watson:
Compare-and-Contrast Lessons
In this 10-week course, your students will learn the three most effective methods of writing a compare-and-contrast essay. They'll begin by imitating a lengthy sentence by H. G. Wells, author of The Time Machine and The War of the Worlds, and eventually move through paragraphs and on to the essay. They'll even learn how to use the compare-and-contrast tool in fiction writing.
The skills of knowing how to compare and how to contrast are ones your students will use for the rest of their lives and in many situations: when shopping for shoes, when deciding on a college to attend or which job to apply for, when choosing that first car to buy, and so forth. Give them the tools they'll need for this important skill.
(Search "compare and contrast" on SchoolhouseTeachers.com for lessons originally posted June, July, and August 2013.)
College Admission Essay Lessons
Equip your student for this important essay! The college admission essay can be a hugely scary hurdle to jump over, but these two lessons will smooth out the bumps and show your students exactly what college admissions counselors look for when they read these essays.
In preparation for the essay, students will answer questions that show they are interested in the college or university, and they'll learn how to be specific about what drew them to the college (what they really like about the campus, focus/mission, former graduates, specific degree program, and so on). Later they'll learn what admissions counselors look for in the essay and how to meet those expectations.
(Search "college admission essay" on SchoolhouseTeachers.com for lessons originally posted October 2013.)
Advertising Lessons
Why should your students study advertising if they aren't going into that field? First, students will learn how to use those methods in their own writing. Second, they'll become more discerning when they can identify those methods used on them (translated: so they won't be snookered).
Join SchoolhouseTeachers.com to enjoy this three-week unit posted January 2014!
Daily Writing Prompts
Get your students writing with these fun, daily writing prompts by Sharon Watson! Not only will your students enjoy writing but they'll also be absorbing information about figurative language, poetry, parts of speech, essay structure, persuasion, story writing, and much, much more.
Join SchoolhouseTeachers.com to use these short, engaging writing prompts in your school today!
(Click "Dailies" and then "Daily Writing" on SchoolhouseTeachers.com .)
This page contains affiliate links. Click here to learn more.