---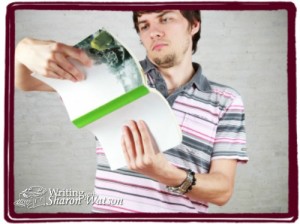 Literature might seem like one of those courses in which pulling teeth is involved.
You assign a poem, play, short story, or novel to read, and you immediately encounter resistance. It's hard, they say. It's boring, they complain. The lawyer in them tries to make a deal with you: "I'll read these more exciting young adult novels, and you can count that as literature. At least I'm reading."
What can you do?
Before I forget, check out the FREE downloads of the first two chapters of our new literature course coming out this summer! Get the info at the end of this article!
First, a short definition of literature: Writing that makes something clear about the world, says something important about being human, employs literary devices such as figurative language, has the ability to strike our hearts with its truth or beauty, and has stood the test of time.
I sympathize with students who have to read literature today. I really do. The reasons why I feel their pain are closely related to the reasons they don't like to read literature:
1. These stories were rarely written for teens. As much as we might love Pride and Prejudice or The Time Machine, their original target audience was adult readers. In fact, if teens were caught reading novels in the days of Jane Austen or H. G. Wells, they most likely were punished. But today we make our teens read them.
2. Because these stories were not written for teens, they contain events unsuitable for or incomprehensible to them. Think of it this way: When you watched The Sound of Music as a child, you were wrapped up in the troubles of the children. When you watched it again as an adult, suddenly the adult concerns of religion, war, a love triangle, and being responsible for a family came into sharp view. Our teens struggle to understand the adult events of these novels; it's hard for them to cipher any of the meanings of the events. They are not equipped to do it, simply because of their age and lack of certain experiences.
3. The main characters are not anywhere near the age of your teens. Today's writers and editors know that the main characters must be in the age range of the target audience, maybe even slightly older. That latest young adult (YA) novel your teen is reading features main characters in their mid to late teens. The Old Man and the Sea by Ernest Hemingway is a splendid story about endurance and a tough human spirit stuck inside an old body. I like it tremendously now, but as a teen, I would have been bored out of my skull by a story about an old man.
4. Today's language is very different from the language in older works of literature. The language of literature can be hard to understand—longer sentences and paragraphs, a difficult vocabulary, and a seemingly more complicated way of saying things. I grew up with the King James Version of the Bible, so Shakespeare's plays were not as hard for me to comprehend as they were for my classmates. Think of your teens who have grown up with news bites, texts, and Facebook posts.
So, back to the question of what you can do about all this.
First, take pity on your teens. Sometimes I actually apologize to my literature class for making them read a particular book.
Second, allow your teens respectfully to express their opinions of the work of literature after they've read it. Sure, they have to read it, but they don't have to like it.
Third, change it up now and then. Allow them to ditch one novel in the literature course in exchange for an in-depth analysis of one of their YA novels.
Fourth, read the short story, play, or novel with your teens. I can hear you laughing now. Who has the time? However, this tactic will give you greater empathy for your teens, and your more experienced eyes will help them unearth some golden gems they otherwise would have missed.
So get in there ever and anon and be as merry as the day is long. Once more into the breach, dear friends, once more!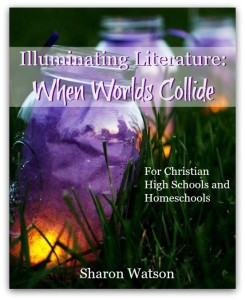 Want an interesting literature course you really can do at home? Click here for FREE downloads of the first two chapters of our new literature course coming out this summer—Illuminating Literature: When Worlds Collide.
How do you encourage your teen to read literature? Share your idea below in the comment box.
Yours for a more vibrant writing class,

Copyright © 2014-15 by Sharon Watson
Image courtesy of Graur Razvan Ionut, freedigitalphotos.net
Teachers, connect with me on Facebook or Pinterest!
---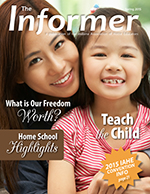 Frustrated that your students don't finish an essay or don't know the steps to complete one? Worry no more! Click here for my latest article in The Informer about a super-practical writing schedule you WILL use!
---
Want daily writing prompts to tempt reluctant writers and delight eager ones? Find out more about Sharon's daily writing prompts posted on

SchoolhouseTeachers.com

under "Dailies" or

click here

.
---
Get three FREE writing lessons by subscribing to Writing with Sharon Watson! Use the Subscribe form in the column to the right.
---
---
Get your middle school student ready for high school with this popular writing curriculum from Writing with Sharon Watson, published by Apologia! Featured in Cathy Duffy's 102 Top Picks for Homeschool Curriculum, Jump In will prepare and even amuse your students as they learn the fundamentals of effective essay writing and storytelling.