---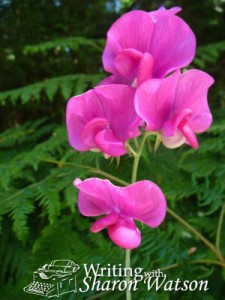 Gardeners love to receive their new seed catalogs in the middle of winter. It gives them something to dream about and plan for. Not only are the photos of flowers and vegetables beautiful and inspiring but their descriptions are as well.
Here's the description of the Erewhon Sweet Pea from Burpee's 2014 catalog:
Sweet Peas beguile with their fairylike form, storybook charm and sweet fragrance. A reverse bicolor with pale-pink petals and mid-blue wings, Erewhon is sheer magic.
Sunflowers get the same descriptive treatment, as in this ad for Burpee's Solar Flare Sunflower:
Dazzling flame-type sunflower offers a sensuous color contrast, the dark black disk orbited by ray petals in scarlet-red flame, finishing to gold at their tapered tips. Five to six feet tall, it will keep your vases ablaze with Aztec magic.
Notice all the adjectives and specific verbs that work together to create one impression. The sweet pea is "fairylike," and all the words paint that picture. The sunflower is, well, the sun with "the dark black disk orbited by ray petals."
Now it's your turn: Write your own advertisement for a flower, vegetable, herb, or other plant as though it will appear in a catalog. Using fewer than 40 words, create an impression of the plant by your clever use of adjectives and specific verbs. Make your readers yearn to buy that plant!
Copyright © 2015 by Sharon Watson
Image courtesy of gabriolan.ca
Teachers, connect with Sharon on Facebook or Pinterest!
---
---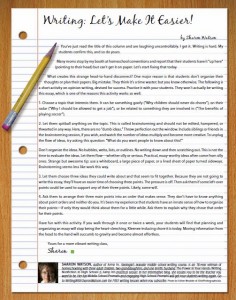 Does the word "outline" send your students into a tailspin? Worry no more! Click here for my latest article in The Informer about an unorthodox method of organizing an essay that really works!
---
Want daily writing prompts to tempt reluctant writers and delight eager ones? Find out more about Sharon's daily writing prompts posted on

SchoolhouseTeachers.com

under "Dailies" or

click here

.
---
Get three FREE writing lessons by subscribing to Writing with Sharon Watson! Use the Subscribe form in the column to the right.
---
---
Get your middle school student ready for high school with this popular writing curriculum from Writing with Sharon Watson, published by Apologia! Featured in Cathy Duffy's 102 Top Picks for Homeschool Curriculum, Jump In will prepare and even amuse your students as they learn the fundamentals of effective essay writing and storytelling.