---
You have an idea for a story but don't know how to get it going. Or you would like to write a story but are out of ideas.
In story writing, you have to throw a lot of things at your main character, things he or she would rather not have to deal with. In this prompt, you'll learn two proven methods to get ideas and plunge your character into hot water. Next week, we'll discuss two more methods.

Two Story Writing Strategies
1. Put your character somewhere he doesn't want to be. This method gets him off balance and can set up all sorts of conflicts for him and excitement for your reader. (Note: When I say "him," I mean "him," "her," or "it," as in an animal.)
The "somewhere" your character doesn't want to be can be an actual place, as in Robinson Crusoe with Crusoe abandoned on a desert island and trying to survive. It can be a situation, as when mild-mannered Bruce Banner is saddled with the violent persona of the Hulk and fights to keep him submerged. Or it can be a relationship: In Silas Marner, Silas becomes a recluse because he is lied about and betrayed by his best friend.
Some animal stories are based on this method, as well. Take, for instance, Black Beauty by Anna Sewell. Black Beauty begins his life in a pleasant field with his mother. Soon, he is thrust into a series of situations that grow worse and worse for him, though he always tries to please his masters, whether they be kind, cruel, or simply unthinking or inexperienced.
Think of Oliver Twist and Little Orphan Annie, both characters in orphanages, both in places where they don't want to be.
Perhaps the true account of Moses in the Bible is so exciting to readers because Moses is exactly where he does not want to be. He's back in the land he had run away from after committing a crime. He is forced to do things he hates, such as public speaking. He's dealing with enslaved people who don't trust him and won't follow him. And he's constantly thrown into contact with a pharaoh who despises him and would love to kill him.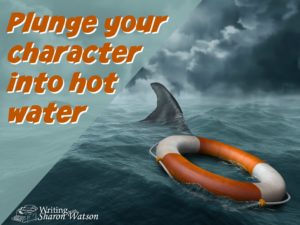 2. Put your character far from home. In this scenario, you can choose whether your character will try to get back home or will remain far from home.
Examples of this abound. Dorothy Gale contemplates running away in The Wizard of Oz movie, is thrown into another world, and spends much time trying to get back home. The Greek war hero Odysseus tries to make it home in Homer's epic poem The Odyssey and encounters cannibals, a Cyclops, angry gods, shipwrecking Sirens, and a whole host of other ills. And when he returns home, he has to win back his wife, who has believed him dead for ten years and has been entertaining suitors. The Incredible Journey by Sheila Burnford is the story of two dogs and one cat who, after being left in the care of others for a few weeks, take off into the wild to find their original home.
Of course, you are astute enough to know that many plots or scenarios are a combination of these two methods.
What would it be like if you created a character with superpowers but then plunged him into a setting where his superpowers did not work? That would qualify as a situation he did not want to be in. What if you wrote about an ant who gets scooped up into an ant farm and tries to find his way home?
Now it's your turn: Make a list of possibilities for each method—a character where he doesn't want to be and one far from home. Then choose one idea from your list you really like and begin your story. For this prompt, you can simply begin your story or actually finish it.
You'll find three more strategies in Part 2. >>
Copyright © 2015 by Sharon Watson
Image credits: lifesaver by Paul Fleet / dollarphotoclub.com. Shark by paulabflat / morguefile.com
Do you have an idea for a writing prompt? Contact Sharon Watson by clicking here.
Teachers, connect with Sharon on Facebook or Pinterest!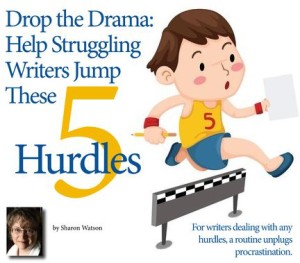 Are your writers struggling? Do you wish you could figure out why your children won't write? Would you love to have a peaceful writing class experience?
Help your struggling writers—and you!—by identifying five hurdles to writing. Then learn practical actions you can take against those hurdles.
This article by me in The Old Schoolhouse magazine is also loaded with links to other helpful posts that will give you and your writers some welcome relief.
Click here to drain some of the tension from your writing class
---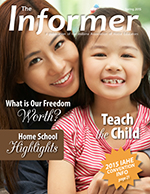 Frustrated that your students don't finish an essay or don't know the steps to complete one? Worry no more! Click here for my latest article in The Informer about a super-practical writing schedule you WILL use!
---
Want daily writing prompts to tempt reluctant writers and delight eager ones? Find out more about Sharon's daily writing prompts posted on

SchoolhouseTeachers.com

under "Dailies" or

click here

.
---
Get three FREE writing lessons by subscribing to Writing with Sharon Watson! Use the Subscribe form in the column to the right.
---
---
Get your middle school student ready for high school with this popular writing curriculum from Writing with Sharon Watson, published by Apologia! Featured in Cathy Duffy's 102 Top Picks for Homeschool Curriculum, Jump In will prepare and even amuse your students as they learn the fundamentals of effective essay writing and storytelling.