---
Do you have children or students who like to read but don't have time?
How can you engender a love of reading in your home, even with reluctant readers?
Let's create an atmosphere in our homes in which reading is not only possible but also enjoyable.
1. Read aloud to your children.
Reading aloud to your children can be a treat for you and for them.
My husband got a kick out of reading Robert Lawson's Rabbit Hill to our children when they were young. It's a delightful story filled with interesting animal characters, and he created voices for Little Georgie, old Uncle Analdas, the skunk Phewie, and others. Our children loved hearing the story in these voices and couldn't wait to hear the next chapter.
Last winter our daughter continued the tradition and read Rabbit Hill to her daughters. They cozied up and listened with great interest. This winter they enjoyed it again, sitting on the lap of their grandpa. They liked it so much that he checked out a few books from the library he thought they would enjoy. He's ready!
2. Let your children catch you reading.
When our children see us reading, they come to believe that reading is a legitimate activity. It takes reading out of the realm of drudgery or "schoolwork" and transforms it into a daily delight, something that normal people can do for pleasure.
3. Create time in your home that makes reading possible.
In some homes, the TVs, iPads, tablets, mobile devices, video games, or radios are always ON. When children are bombarded with a constant deluge of information and entertainment, they cannot concentrate on anything else. As adults, we may be able to tune out the extra noise and activity, but our children cannot.
Here's a true story to show you what I mean. A cardinal kept pecking at my sister-in-law's brass plate on her front door. Every morning, that cardinal would show up and begin his all-day siege. The little guy was draining all the pleasure out of her new home with his constant noise. After some research, my sister-in-law put a piece of cardboard over the shiny brass, and the cardinal stopped attacking it. The moral of the story? She could not enjoy her new home while she was assaulted with all the noise.
And the same is true for your children. When they are fixated on all the activity provided by these electronic interruptions, they will not be able to enjoy some of the simpler, more creative things in life.
Our children need downtime, but they also need off-time as well. Schedule a daily moratorium on outside influences. How about an hour after dinner or a block of four hours every Saturday? Don't worry about boredom. Boredom will increase their desire to read.
4. Create a place in your home that is all about reading.
Set aside a quiet, well-lit corner of a room for a comfortable bean bag or chair and a shelf of books. Make it a "no technology" corner (except for eReaders).
When the weather warms up, some of your readers may enjoy reading outside.
5. Have fun making your own family library together.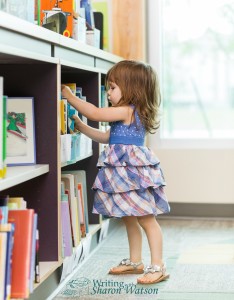 Set aside a place in your home where you can arrange a few bookshelves, and then begin to fill them. Take your children to used book sales and allow them to choose a book or two (or magazines) they would like in the family library, reading material you know you can approve of.
Your readers may not enjoy works of fiction. Instead they appreciate biographies, books on science, history, and so on. One of my students does not like fiction, so his mother lets him choose books on the Titanic, farming, how things work, and other books of this sort.
When children and teens have a hand in creating the family library, they have a sense of ownership and will be more likely to read what is stocked on the shelves.
Click here for more ideas from the American Library Association on how to create family libraries. Pretty cool ideas!
And don't miss BuzzFeed's "30 Best Places to Be if You Love Books." Though they are all inviting, I was especially intrigued with #13!
What have you done in your home to encourage your children to read?
Share your ideas in the comment box below.
Yours for a more vibrant homeschool,


.

(This post contains affiliate links.)
Copyright © 2015 by Sharon Watson
Father with sons image © llike / dollarphotoclub.com
Girl with books image © Tyler Olson / dollarphotoclub.com
Teachers, connect with me on Facebook or Pinterest!
---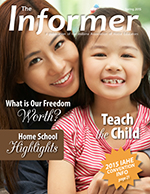 Frustrated that your students don't finish an essay or don't know the steps to complete one? Worry no more! Click here for my latest article in The Informer about a super-practical writing schedule you WILL use! 
---
Want daily writing prompts to tempt reluctant writers and delight eager ones? Find out more about Sharon's daily writing prompts posted on

SchoolhouseTeachers.com

under "Dailies" or

click here

.
---
Get three FREE writing lessons by subscribing to Writing with Sharon Watson! Use the Subscribe form in the column to the right.
---
---
Get your middle school student ready for high school with this popular writing curriculum from Writing with Sharon Watson, published by Apologia! Featured in Cathy Duffy's 102 Top Picks for Homeschool Curriculum, Jump In will prepare and even amuse your students as they learn the fundamentals of effective essay writing and storytelling.