---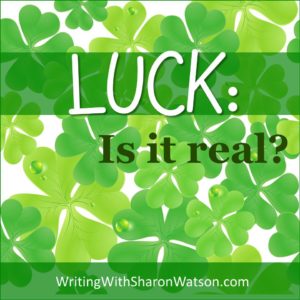 Maureen Wilcox bought two lottery tickets in 1980, one in Rhode Island and one in Massachusetts. And she picked winning numbers. Was she lucky?
According to mental_floss magazine (June 2014), the numbers she chose for the Massachusetts lottery were the winning numbers for the Rhode Island lottery. And the numbers she chose for the Rhode Island lottery were the winning numbers for the Massachusetts lottery. So was she unlucky?
You've heard of superstitions: don't let a black cat cross your path, pick a four-leaf clover for luck, be on the winning end of the wishbone, a lucky stone or rabbit's foot, and so forth. But do they work? Are they real?
Are some people born lucky while others are born unlucky? Is luck a matter of being in the right place at the right time?
Now it's your turn: Is luck real? Write one opinion paragraph on whether you think luck is real. Use one point to support your view.
Copyright © 2014 by Sharon Watson
Image courtesy of graphicstock.com
Teachers, connect with Sharon on Facebook or Pinterest!
---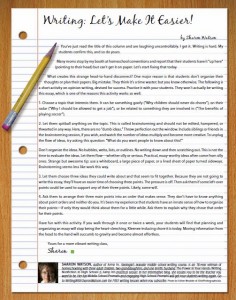 Does the word "outline" send your students into a tailspin? Worry no more! Click here for my latest article in The Informer about an unorthodox method of organizing an essay that really works!
---
Want daily writing prompts to tempt reluctant writers and delight eager ones? Find out more about Sharon's daily writing prompts posted on

SchoolhouseTeachers.com

under "Dailies" or

click here

.
---
Get three FREE writing lessons by subscribing to Writing with Sharon Watson! Use the Subscribe form in the column to the right.
---
---
Get your middle school student ready for high school with this popular writing curriculum from Writing with Sharon Watson, published by Apologia! Featured in Cathy Duffy's 102 Top Picks for Homeschool Curriculum, Jump In will prepare and even amuse your students as they learn the fundamentals of effective essay writing and storytelling.