---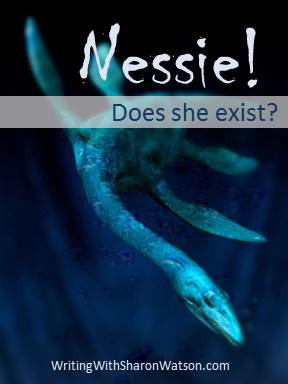 Bigfoot. Sasquatch. Kraken. Yeti. Extraterrestrials (ETs). The Loch Ness Monster.
Do they exist?
Many photos have been taken of these supposed monsters, and occasional sightings only add to the excitement.
Click here to see a satellite image of Loch Ness in Scotland taken by Apple Maps. Some people believe they see an image of the Loch Ness Monster, or Nessie, in it, including her flippers. Nessie is believed by some to be a plesiosaur, a long-necked dinosaur that lives in water.
What do you think? Is it she? Could it be?
The Loch Ness Monster and other monsters belong to the field of cryptozoology.
Now it's your turn: Do you believe that such monsters as Bigfoot and Nessie exist? Write a paragraph to support your view. Use at least one reason to prove you are right.
Copyright © 2014 by Sharon Watson
Image courtesy of Victor Habbick / freedigitalphotos.net
Get three FREE writing lessons by subscribing to Writing with Sharon Watson! Use the Subscribe form in the column to the right.
| | |
| --- | --- |
| | Check out Jump In, the popular middle school writing curriculum published by Apologia Press! Easy, bite-sized lessons guide your student through the complexities of writing persuasion, exposition, description, and fiction. The text is incremental, the tone is student friendly, and the assignments are very achievable. Teachers will enjoy using The Lifeguard's Locker. |