---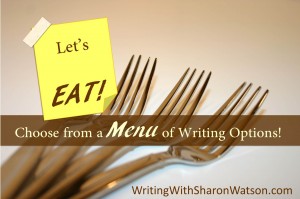 Do you like to eat with friends? Do you like to cook with them?
Some new apps pair professional and amateur chefs together with folks who like to eat. One is called Cookapp; you can read about it here. Basically, chefs advertise what they would like to cook. If you'd like to eat that, you can pay for the dinner ahead of time. The meal isn't served in a restaurant. It could be served at the chef's house, at a park, or anywhere. What's interesting about this new way of eating is that other people are signing up for the same meal as well, people you might not even know.
This writing prompt is all about eating, so it makes sense to have a menu of choices for you to write about. Choose one item from the menu below to write about. Here goes:
1. Exposition: If you were to cook a dinner for someone, what would you cook and whom would you invite? Your dinner guests can be real people you know, characters from books or movies, or people from history.
2. Persuasion: Persuade a friend or relative to go to a dinner with you that has been arranged through one of these new apps. You've never been to the chef's house; you've only seen the yummy dinner advertised on the app.
3. Narration (storytelling): Write a short story about characters who go to one of these dinners. What will they eat? Who will be the cooks? With whom will they eat? Will they like each other? Have troubles? Will the meal go badly? What will happen when strangers get together to eat? You can make up the characters or use ones you already know from movies and books. (What would happen if Captain America and the Winter Soldier or someone from HYDRA showed up at the same dinner?)
4. Persuasion (advertising): If you like to cook, choose one item or meal to write about and then describe it as though you are advertising it on one of these new apps. Make it sound appealing so people will sign up to come and eat it.
5. Personal narrative (personal story): Write about an interesting, funny, or strange meal you've had. Who was with you? What happened?
Copyright © 2014 by Sharon Watson
Image courtesy of Alex Melnick / Dreamstime Stock Photos
Get a FREE writing lesson by subscribing to more middle school writing prompts, high school writing prompts, or Sharon's blog! Use the Subscribe form in the column to the right.
| | |
| --- | --- |
| | Check out Jump In, the popular middle school writing curriculum published by Apologia Press! Easy, bite-sized lessons guide your student through the complexities of writing persuasion, exposition, description, and fiction. The text is incremental, the tone is student friendly, and the assignments are very achievable. Teachers will enjoy using The Lifeguard's Locker. |