---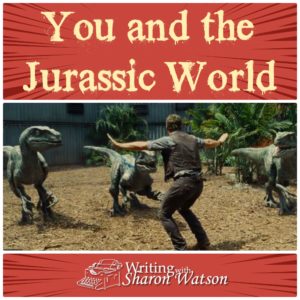 Many exciting stories have come from scientific ponderings. Take, for instance, Frankenstein. It was written by Mary Shelley as the scientific world was debating the idea of reanimation. Could something dead, a frog, perhaps, be reanimated by electricity? And if a frog could be brought back to life, what about a human? And if a human could be brought back to life, does that mean we should?
So Dr. Frankenstein sews together pieces of cadavers and, after many failed attempts, actually brings to life this cobbled-together thing, this human, if you can call it that.
Eighty years later, H. G. Wells is exploring a similar topic in The Island of Dr. Moreau. Can humans and animals be joined together?
Fast-forward 200 years from Shelley's Frankenstein. What happens if scientists use DNA to bring back dinosaurs? And what happens if those dinosaurs are cobbled together from parts of other animals? It's not exactly eye of newt and horn of unicorn, but what if those scientists genetically modify the dinosaur DNA and add DNA from a frog and a snake and then the dinosaur learns how to camouflage itself and lower its blood temperature so as to be unreadable to the humans trying to contain it? Hmmm? What then?
That might give you a Jurassic World.
On a younger, more light-hearted level, consider Fird, a two-feature creature. You haven't heard of a fird? Well, he's part fish, part bird. He goes on a quest to find other firds, and along the way finds different kinds of two-feature creatures. His story is chronicled in Whoever Heard of a Fird? by Othello Bach.
Now it's your turn: Create a new type of animal by piecing together parts of other animals. Or add the DNA from other animals to an existing one.
Now write a short story using this new animal. Will it solve a problem? Will something go wrong? Your story can be for children or for people your age.
Moms, you can read a review of Jurassic World here.
Copyright © 2010-2015 by Sharon Watson
Image credit: Jurassic World trailer
Do you have an idea for a writing prompt? Contact Sharon Watson by clicking here.
Teachers, connect with Sharon on Facebook or Pinterest!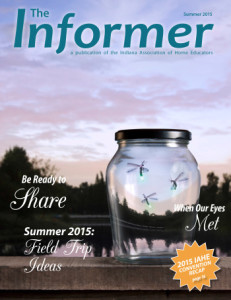 Worried that writing will fall off your kids' radar this summer? Use these fun writing activities your kids will enjoy!
---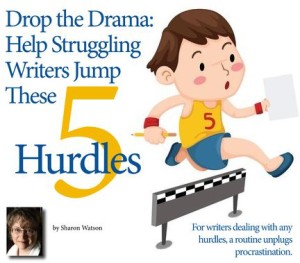 Are your writers struggling? Do you wish you could figure out why your children won't write? Would you love to have a peaceful writing class experience?
Help your struggling writers—and you!—by identifying five hurdles to writing. Then learn practical actions you can take against those hurdles.
This article by me in The Old Schoolhouse magazine is also loaded with links to other helpful posts that will give you and your writers some welcome relief.
Click here to drain some of the tension from your writing class
---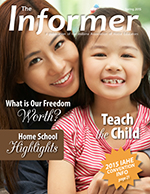 Frustrated that your students don't finish an essay or don't know the steps to complete one? Worry no more! Click here for my latest article in The Informer about a super-practical writing schedule you WILL use!
---
Want daily writing prompts to tempt reluctant writers and delight eager ones? Find out more about Sharon's daily writing prompts posted on

SchoolhouseTeachers.com

under "Dailies" or

click here

.
---
Get three FREE writing lessons by subscribing to Writing with Sharon Watson! Use the Subscribe form in the column to the right.
---
---
Get your middle school student ready for high school with this popular writing curriculum from Writing with Sharon Watson, published by Apologia! Featured in Cathy Duffy's 102 Top Picks for Homeschool Curriculum, Jump In will prepare and even amuse your students as they learn the fundamentals of effective essay writing and storytelling.