---
Introductions can be boring. Super boring.
Young writers think they have to fight with a blank piece of paper for that first, amazing sentence before they write anything else, and so they get stuck.
Cue the tissues. But it doesn't have to be that way.
A mom recently asked me to look at her son's essay. He was entering a state-wide speech contest on the topic of responsibility and had written a solid essay—except for the introduction. He was going to put his listeners to sleep with it.
We were all sitting at his kitchen table. I turned to this teen and asked him,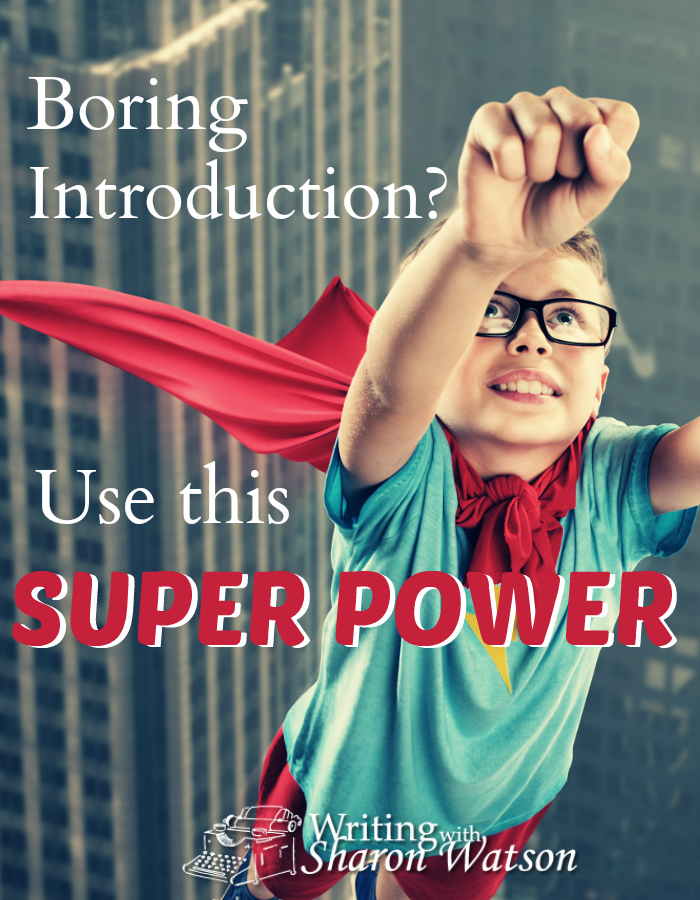 "Do you have any personal stories about when you showed responsibility?" He did but was hesitant to use it; to him it felt like bragging.
I encouraged him to write up his story in just a few sentences. This way, his audience would see that he knew what he was talking about, would see him as a real person, and would have a better idea of what he meant by the word "responsibility." He inserted his personal story into his introduction, entered the contest, and was in the top four finalists in the state.
Success!
Personal stories are powerful. They can pack a punch. Think about all the stories about real people that politicians use during election time. They choose them for the highest impact, to grab the hearts of voters. Teach your writers to grab the attention of their readers.
Here's an example of using a personal story in an introduction written by Jared, one of my writing students. His topic was heroes and what makes one.
When I was a little kid, I loved Superman. He was my favorite super hero. I had Superman pajamas and red cowboy boots that I wore around the house. Saving the world was easy with my super powers. The only thing that stood in my way was bedtime. But when I got older, I had to accept the fact that there is no such thing as a person with super powers. Heroes, though, still exist, and they have many qualities in common that make them heroes.
Great personal story. Lots of interest and humor. Engaging introduction to the topic of heroes. What's not to like?
Note that he included his thesis statement at the end of his introductory paragraph, which is where it belongs: ". . . they have many qualities in common that make them heroes." Then he went on to expound upon some of the qualities he felt made a hero.
The next time your students have trouble introducing their essay, suggest they use the super power of a personal story. The story doesn't have to be theirs. It can be a friend's, neighbor's, or relative's. If this is the case, the student should ask permission of the person before using the story.
I used the story of a young speech writer to show you how powerful stories can be. What story will your student use?
Yours for a more vibrant writing class,

.
Copyright © 2014 by Sharon Watson
Jared's introduction is taken from The Power in Your Hands: Writing Nonfiction in High School.
Image courtesy of dollarphotoclub.com
Did you find this article helpful? Feel free to share it by using the buttons below.
Teachers, connect with me on Facebook or Pinterest!
---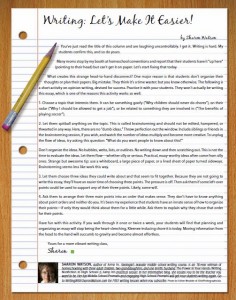 Does the word "outline" send your students into a tailspin? Worry no more! Click here for my latest article in The Informer about an unorthodox method of organizing an essay that really works!
---
Want daily writing prompts to tempt reluctant writers and delight eager ones? Find out more about Sharon's daily writing prompts posted on

SchoolhouseTeachers.com

under "Dailies" or

click here

.
---
Get three FREE writing lessons by subscribing to Writing with Sharon Watson! Use the Subscribe form in the column to the right.
---
---
Get your middle school student ready for high school with this popular writing curriculum from Writing with Sharon Watson, published by Apologia! Featured in Cathy Duffy's 102 Top Picks for Homeschool Curriculum, Jump In will prepare and even amuse your students as they learn the fundamentals of effective essay writing and storytelling.