---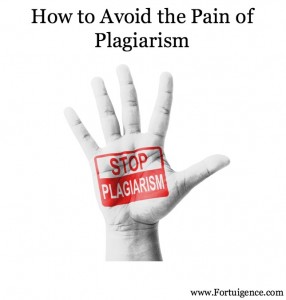 Today's article comes to you from my friend Lily Iatridis of Fortuigence.com. Her article is a wonderfully complete tutorial on plagiarism and how to avoid it. You'll even find helpful links your students can use to create those pesky citations.
In addition, Lily shares a solid method for taking notes and for keeping track of all the sources. And check out her handy anti-plagiarism checklist at the end!
This is well worth the read. I won't be surprised if you use this article often as a reference for you and your children throughout the school year.
You can find Lily's online writing course Essay Rock Star here.
Now, on to Lily's article . . .
How to Avoid the Pain of Plagiarism
We all know what cheating on a test looks like, but cheating on a writing assignment? That's called plagiarism. The problem is that many people aren't clear on everything that falls within its boundaries, and kids regularly end up plagiarizing by accident. Parents, let's make sure that doesn't happen by educating our kids about plagiarism now!
The Consequences Can Be Dire
Plagiarism is taken just as seriously as cheating on a test. Students guilty of plagiarism gets an automatic "F" on their paper at the very least, but in many cases, that's seen as a mild punishment. In some colleges, a student guilty of plagiarism gets sent home for the semester with no credit for their coursework. That means no tuition refund either. In colleges with strict honor codes, a student could face expulsion.
What Falls Within the Realm of Plagiarism?
By definition, plagiarism is using or imitating the language or thoughts of another person in a piece of writing without giving credit to that person.
There are four ways of plagiarizing in a writing assignment:
1) Getting somebody else to write a paper for you, buying one online, or writing a paper for someone else.
2) Copying someone else's paper and putting your name on it as if you wrote it yourself, with or without their permission.
3) Using somebody else's ideas in a paper and claiming them as your own. Yes, you still have to give credit to others' ideas in addition to direct quotes, facts, or statistics!
4) Reusing an old paper of your own for another class. Believe it or not, that falls within the realm of plagiarism too. If you wrote a paper and never finished it or turned it in for a grade, that's fine, but if you did, you can't turn the same paper in again for another course.
When Parents Accidentally Plagiarize on Behalf of Their Kids
This is a sensitive topic, but it's one that needs to be addressed.
In what way can you help your kids on their writing assignments without doing their work for them?
Here are four approaches that will help you coach your kids' writing and safely prevent you from accidentally plagiarizing at the same time:
1) Guide them through collecting research. You can suggest keyword search and help determine if a source is credible. When they take research notes, help them make sure they record the source and page of their information as they go along.
2) If you're reviewing a written draft, ask questions to clarify or organize their ideas. Identify gaps in information, but don't tell them what to say to fill those gaps.
3) Assist with paragraph structure by making sure a main idea sentence is in the paragraph, and the supporting details go along with the main idea.
4) Point out grammar mistakes or sentences that can't be understood. Reading their writing aloud with them will catch a lot of awkward sentences and misplaced grammar that needs to be smoothed out.
Even if you do all of that and the end result still isn't perfect, that's ok. Teaching our kids to be competent independent writers can take many years, and it's only learned through repeated experience. By going through the above four items with them regularly, they'll eventually start to do it on their own. That's the goal!
The Dangers of Too Much Cut and Paste
These days, with the ease of cutting and pasting text, it's all too easy to plagiarize.
Rearranging the wording of pasted text does NOT correct plagiarism!!
A lot people make that mistake. Don't let your kids be one of them. Remember, copying ideas without giving credit is a form of plagiarism. If someone else's ideas are slightly reworded, they're still someone else's ideas.
The way to correct plagiarism is to cite your source of information. By "cite," I mean create a reference, specially formatted in a "citation," to each source of outside information in your kids' paper. I'll share some excellent resources for formatting citations toward the end of this article.
But before we get into that, we need to discuss how to take research notes in a way that won't drive you and your kids batty.
Kids Must Organize Research at the Start to Avoid Plagiarism Later
Are you sure that was your idea, not someone else's?
That question might sound strange, but when you've been immersed in reading about a subject for a paper for several hours, days, or weeks, all those thoughts and ideas can easily start swirling together in your head. Once that happens, it can be very hard to remember what came from our own imagination or from another source. Even worse, kids could have to spend hours tracking down the actual source of the information later if they didn't take proper notes.
The key to saving your kids a lot of time and confusion when outside research is needed for a paper is to start taking notes as soon as the topic is decided.
Here are step-by-step instructions of how I teach research note taking to students:
1) Create a Research Notes document on their computer. As kids find each credible book, article, or whatever source of information that will help with the paper, they copy and paste its title, author, URL, etc. on the Research Notes document.
2) As kids find interesting information on each source they review, they can cut and paste the information into their Research Notes document underneath the corresponding source title.
3) When adding new information onto their Research Notes, kids write down the book or article page number beside each piece of information found. If it's on a website, they write down the site's page title or section.
4) Later, after kids have developed their thesis statement and outline, and are ready to start writing their first draft, they can have their Research Notes sheet open next to their draft document. When they write their draft in their own words, every single piece of information that comes from the Research Notes sheet gets a citation.
Note: It's very important that kids write the draft of their papers in their own words with their own voice. If not, they must make a direct quotation from the source of their information.
The One Time You Don't Need to Make a Citation
There is one instance where you can use information from an outside source and not have to cite it. That's when a piece of information is considered common knowledge.
Common knowledge is information that most people will know already. For example, George Washington's face being on the $1 bill or Abraham Lincoln being President is common knowledge for U.S. citizens.
Younger kids might not know when something is common knowledge, or some assume that everything on the Internet is common knowledge. Older adults know that's not so. Parents, please check on your kids to see how well they understand what information is common knowledge.
But whenever you're in doubt, cite!
How to Correctly Format a Citation
A citation is a reference to an outside source of information used in any written piece your kids create. Citations give the exact location where the specific piece of information is found within a source, like the page number or web page heading.
There are a variety of formats you can use for citations. Some are called footnotes, some are endnotes, and others are called in-text citations. My personal favorite is in-text citations because I find them easiest to use of the three. Along with the citations, a bibliography or alphabetical list of outside sources is also required.
Two excellent online sources for formatting citations and a bibliography are the Purdue University Online Writing Lab and Easybib. Most likely, your student will want the MLA Style (Modern Language Association) or the Chicago Manual of Style with either of these sources.
Teachers, university professors, and future professional colleagues are going to be scrutinizing your kids' sources as carefully as they do the content of their papers, so it's helpful to practice writing citations or start with a simple bibliography as early as the lower middle school level.
Anti-Plagiarism Review Checklist
Did your kids create a citation in their paper for each of the following?
__ Someone else's idea or opinion, even if they reword it.
__ A direct quote from another source, including people they know.
__ Factual information from another source.
__ Statistics. When kids use statistics, they must cite the original source of the statistic to confirm its validity. A lot of sites quote portions of statistical studies in a way that creates misleading assumptions in the reader's mind. Help your kids keep an eye out for that.
__ A paper they wrote in the past. They can use research from an old paper or quote excerpts of one of their past papers, but they can't change the title, copy it, and turn it in again for another class if it's already been graded elsewhere.
About Lily Iatridis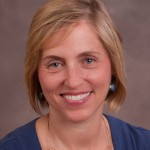 Lily Iatridis is a former longtime public and private school secondary classroom teacher who firmly believes that there is no such thing as a "one size fits all" education for children. To learn more about her new online school, Fortuigence, visit http://www.fortuigence.com. To access our free End Blank Page Terror Toolkit and guidebook, visit http://www.fortuigence.com/blankpageterror.
Copyright © 2014 by Lily Iatridis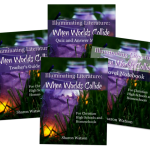 Download your FREE chapters from our new literature course Illuminating Literature: When Worlds Collide.
Did you find this article helpful? Feel free to share it by using the buttons below.
Teachers, connect with Sharon on Facebook or Pinterest!
---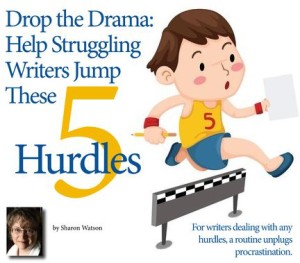 Are your writers struggling? Do you wish you could figure out why your children won't write? Would you love to have a peaceful writing class experience?
Help your struggling writers—and you!—by identifying five hurdles to writing. Then learn practical actions you can take against those hurdles.
This article by me in The Old Schoolhouse magazine is also loaded with links to other helpful posts that will give you and your writers some welcome relief.
Click here to drain some of the tension from your writing class
---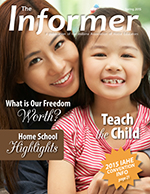 Frustrated that your students don't finish an essay or don't know the steps to complete one? Worry no more! Click here for my latest article in The Informer about a super-practical writing schedule you WILL use!
---
Want daily writing prompts to tempt reluctant writers and delight eager ones? Find out more about Sharon's daily writing prompts posted on

SchoolhouseTeachers.com

under "Dailies" or

click here

.
---
Get three FREE writing lessons by subscribing to Writing with Sharon Watson! Use the Subscribe form in the column to the right.
---
---
Get your middle school student ready for high school with this popular writing curriculum from Writing with Sharon Watson, published by Apologia! Featured in Cathy Duffy's 102 Top Picks for Homeschool Curriculum, Jump In will prepare and even amuse your students as they learn the fundamentals of effective essay writing and storytelling.