---
This is a good time of year to read James Whitcomb Riley's "When the Frost Is on the Punkin," which you can read here. It describes the glories of life on the farm during the cool, crisp days of autumn and the harvest season.
In the poem, you'll find this phrase: "The husky, rusty russel of the tossels of the corn / And the raspin' of the tangled leaves as golden as the morn. . ."
(Note: Riley misspells "russel" on purpose. The correct spelling is "rustle." Same with "tossels," which is supposed to be "tassels." He's using a country dialect in his writing.)
Riley uses the three wonderful words "husky, rusty russel" to describe the sound of the dried leaves of the corn plant as they rub together in the wind. If you have ever heard those dry leaves or blades rubbing together, you can almost hear the "s" sound in the wind, as though they are whispering to each other.
What are Riley's secrets to writing so well?
Three Writers' Devices
Riley also uses three writers' devices within those three words:
 1. Alliteration: when two or more neighboring words begin with the same consonant sound. In this case, the "r" sound in "rusty" and "russel."
 2. Assonance: when a vowel sound is repeated in two or more neighboring words. In this case, the "u" sound in "husky, rusty, russel."
 3. Consonance: when a consonant sound is repeated within two or more neighboring words, not at the beginning of the word. In this case, the "s" sound in "husky, rusty russel."
 Wow! All that in three words! Don't worry if you can't keep those devices straight. The important things to remember are that all of them involve repeating sounds in neighboring words and that they add to the delight of reading the poem out loud by making you hear the leaves of corn.
You can use any of those three writers' devices in poetry, story writing, or essay writing. What a deal!
Now it's your turn: Write a sentence to describe a sound or a sight that occurs during autumn. Use alliteration, assonance, or consonance, or use any combination of the three.
Copyright © 2014 by Sharon Watson
Images courtesy of dollarphotoclub.com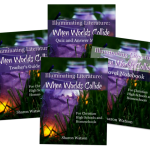 Download your FREE chapters from our new literature course Illuminating Literature: When Worlds Collide.
Do you have an idea for a writing prompt? Contact Sharon Watson by clicking here.
Teachers, connect with Sharon on Facebook or Pinterest!
---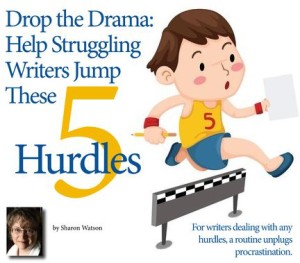 Are your writers struggling? Do you wish you could figure out why your children won't write? Would you love to have a peaceful writing class experience?
Help your struggling writers—and you!—by identifying five hurdles to writing. Then learn practical actions you can take against those hurdles.
This article by me in The Old Schoolhouse magazine is also loaded with links to other helpful posts that will give you and your writers some welcome relief.
Click here to drain some of the tension from your writing class
---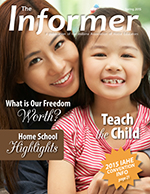 Frustrated that your students don't finish an essay or don't know the steps to complete one? Worry no more! Click here for my latest article in The Informer about a super-practical writing schedule you WILL use!
---
Want daily writing prompts to tempt reluctant writers and delight eager ones? Find out more about Sharon's daily writing prompts posted on

SchoolhouseTeachers.com

under "Dailies" or

click here

.
---
Get three FREE writing lessons by subscribing to Writing with Sharon Watson! Use the Subscribe form in the column to the right.
---
---
Get your middle school student ready for high school with this popular writing curriculum from Writing with Sharon Watson, published by Apologia! Featured in Cathy Duffy's 102 Top Picks for Homeschool Curriculum, Jump In will prepare and even amuse your students as they learn the fundamentals of effective essay writing and storytelling.