---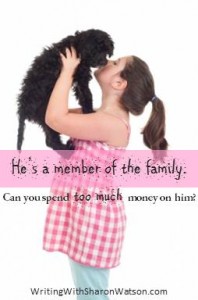 You see this sweet puppy in the window of the pet store, and you can't resist. You want to buy him. When you do, he leaps into your arms and licks your face. This little fellow is so happy—and so are you.
Now he's a friend for life. You do everything together. He's even considered a member of your family. But what happens if he becomes ill?
People have to make that decision every day about their beloved pets, whether the pets are dogs, cats, rabbits, or even gerbils. In fact, the money we spent last year in the United States on our pets is much higher that the money we spent the year before.
According to Boomer and Echo, we spend $1800 a year on a dog and $1400 a year on a cat. That price includes food, litter, vet bills and medicine, toys, clothing, kennel fees, licenses, pet insurance, grooming, and maybe even paying someone to walk your dog. $1800 is about how much you would pay for 360 McDonald's Big Macs or 1,800 Snickers candy bars. A year!
Now it's your turn: Do you think people spend too much on their pets once they've brought them home? How can you tell when it's too much?
Choose about two or three points to support your opinion and then write them in a paragraph.
Image courtesy of artur84, freedigitalphotos.net
Get a FREE writing lesson by subscribing to more middle school writing prompts, high school writing prompts, or Sharon's blog! Use the Subscribe form in the column to the right.
| | |
| --- | --- |
| | Check out Jump In, the popular middle school writing curriculum published by Apologia Press! Easy, bite-sized lessons guide your student through the complexities of writing persuasion, exposition, description, and fiction. The text is incremental, the tone is student friendly, and the assignments are very achievable. Teachers will enjoy using The Lifeguard's Locker. |